Patriots Top Colts in AFC Showdown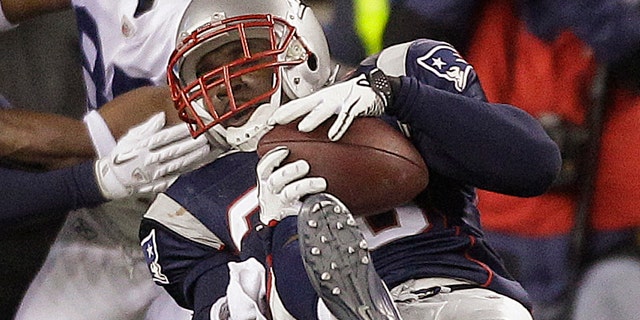 FOXBOROUGH, Mass. -- The Patriots lead over the Colts was slipping away, just as it was last year. Peyton Manning was about to do it again.
Then James Sanders made the big defensive stop.
The safety's leaping interception at the New England 6-yard line with 31 seconds left secured a 31-28 win Sunday. The comeback ended. There was no repeat of history.
"For a minute, I was thinking deja vu," Sanders said. "As a defense, we knew if we didn't make a play, we were going to lose the game. (Manning) wasn't just going to give it to us."
With Tom Brady outplaying Manning in the latest revival of the matchup between the NFL's star quarterbacks, the Patriots led this game 31-14 in the fourth quarter, just as they did last November.
Indianapolis ended up winning that one 35-34 after New England gambled on a fourth-and-2 at their 28 and fell a yard short. The Colts took over at the 29 and Manning hit Reggie Wayne with a 1-yard scoring pass with 13 seconds left.
On Sunday, Manning quickly turned a runaway into a chance for another come-from-behind win. The Colts cut the lead to 31-28 after his second touchdown pass to Blair White in just over four minutes with 4:46 remaining. After a punt, Manning got the ball back at his 20 and drove the Colts to a first-and-10 at the Patriots 24 with 37 seconds to go.
"Certainly (it) felt like last year," Manning said.
He hurried to the line without a huddle, took a snap in the shotgun formation and threw down the right side. Pierre Garcon turned to the outside, but the pass sailed toward the middle where Sanders snared the ball.
"We had some time, had some timeouts and felt like we had a good play call," said Manning, whose three intercepted passes overshadowed his four touchdown throws. "(It was) just a poor throw and it's really sickening."
Still, the Patriots had confidence they could come through.
"Peyton had been making a lot of plays," New England cornerback Kyle Arrington said, "and at the end it just came down to us making a play ourselves."
In the beginning, the Patriots (8-2 and tied for the AFC East lead with the New York Jets) dominated. The Colts (6-4 and leading the AFC South) couldn't stop them, especially with starting linebackers Clint Session and Gary Brackett sidelined. Running backs Joseph Addai and Mike Hart also missed the game with injuries.
New England scored on its first three possessions on passes from Brady of 22 yards to Wes Welker and 8 yards to Aaron Hernandez and a 5-yard run by BenJarvus Green-Ellis. Manning threw a 1-yard touchdown pass to Gijon Robinson midway through the second quarter and 11-yards to Wayne with 4 seconds left in the half as the Colts made it 21-14.
"You can't keep starting off slow, especially against a team like this," Wayne said.
The Patriots extended their lead to 31-14 on a 36-yard run by Danny Woodhead with 1:11 left in the third and a 25-yard field goal by Shayne Graham with 10:23 to go in the game.
Then New England punted on its next two possessions.
"It would have been a lot sweeter if we had done something there in the fourth quarter to help our defense," Brady said. "When we play these guys, we know it's going to come down to the end."
The teams met for the eighth straight season even though they're in different divisions, and the 13th time since Brady started his first game as a pro -- against the Colts -- in 2001. New England won the first six of those meetings then lost five of six before winning Sunday.
"There were a lot of great things in the game," said Patriots coach Bill Belichick, who moved into an 11th-place tie with Joe Gibbs with 171 wins, one more than Paul Brown. "Unfortunately, the fourth quarter, offensively, wasn't part of it."
The win was Brady's 25th straight as a starter in the regular season, matching the NFL record that Brett Favre set with Green Bay. He can break that against the Jets on Dec. 6 in a Monday night game, 11 days after the Patriots game at the Detroit Lions on Thanksgiving.
Brady led a balanced offense, completing 19 of 25 passes for 186 yards and two touchdowns. Manning's numbers were bigger, 38 for 52 for 396. But their highly anticipated meeting shared the spotlight with a little guy who made big plays.
The 5-foot-8 Woodhead, signed after being cut by the Jets after the first game of the season, broke a tackle and scored late in the third quarter. Moments later, he made a tackle on kick returner Brandon James that drew more cheers.
"I do everything to make the play, whether I'm a runner, a receiver or on a kickoff," said Woodhead, who kiddingly asked if he could have a step-stool the next time he was required to speak at a podium. "Maybe (I carry) a little chip, but I'm not too worried what everybody thinks about my size, weight or height. My worry is about doing my job, whatever that might be."
Woodhead caught four passes for 21 yards and rushed seven times for 69 yards. Green-Ellis led the 168-yard rushing attack with 96 yards on 21 carries.
Despite all that, Manning had the Colts in position to beat the Patriots in the final minute.
Again.
"You drive down, you've got excitement, you feel like you're going to win the game," Colts center Jeff Saturday said. "It's just a tough way to end it."