Patriots quarterback Tom Brady's secret weapon? His body coach, Alex Guerrero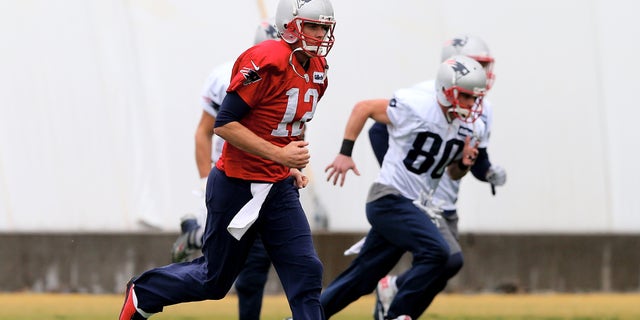 It's the person in Tom Brady's life who is, it seems, always there.
On the sidelines at all New England Patriots games, in the kitchen making sure foods are prepared in the most healthful way for the all-star quarterback, in the gym guiding Brady's workouts. And of course, there are the massages to soothe and to help heal the 37-year-old.
No, it's not Giselle Bündche, Brady's supermodel wife from Brazil.
It's Alex Guerrero, Brady's go-to guy for just about everything.
Much of the credit for Brady's longevity on the field, many say, goes to Guerrero, a man that few people have ever heard of. Guerrero calls himself Brady's "body coach" and, according to a long profile of the quarterback in the Sunday New York Times Magazine, is his "spiritual guide, counselor, pal, nutrition adviser, trainer, massage therapist and family member."
The 49-year-old Guerrero is of Argentinian descent, belongs to the Church of Latter-Day Saints and has a master's degree in Chinese medicine. "We work on staying physically fit, emotionally stable and spiritually sound," he told the Times.
Brady, whose team on Sunday will face the Seattle Seahawks in Super Bowl XLIX, isn't your average 37-year-old. He has only had one major injury during a stellar 15-year career, in 2008 and it caused him to miss all but one game that season.
Guerrero travels with Brady during the season, works out with him twice a day and meticulously plans out his training schedule months in advance. According to Sports Illustrated, Brady's Patriot teammates refer to Guerrero as Mr. Miyagi, after the sensei in the Karate Kid movies.
When SI suggested to Guerrero that he knew Brady's body better than his wife, Gisele Bündchen, did, the body coach answered, "I do have my hands on him a little more than she does."
Most American football trainers emphasize building muscle strength, but Guerrero also works actively on flexibility and looseness.
"If there's so much pressure, just constant tugging on your tendons and ligaments, you're going to get hurt," Brady told the Times. "Like with a kid, when they fall, they don't get hurt. Their muscles are soft. When you get older, you lose that."
Willie McGinest, a former Patriot, recommended Guerrero to Brady nearly 10 years ago when the quarterback was having groin pain.
"I had this adductor muscle that was pulling so tight, and it was pulling on the tendon," Brady told the Times. The Patriots recommended surgery that involved cutting the tendon to relieve pain.
Guerrero advised against it. Instead he worked with Brady to "lengthen" and "re-educate" the muscle so that, hopefully, the tendon wouldn't have to work as hard.
The pain vanished in a few days.
"Willie used to be the big Alex evangelist," Brady told the Times. Now he is.
Like us on Facebook
Follow us on Twitter & Instagram