Patriotic Jonny Gomes crushed Royals aren't inviting him to White House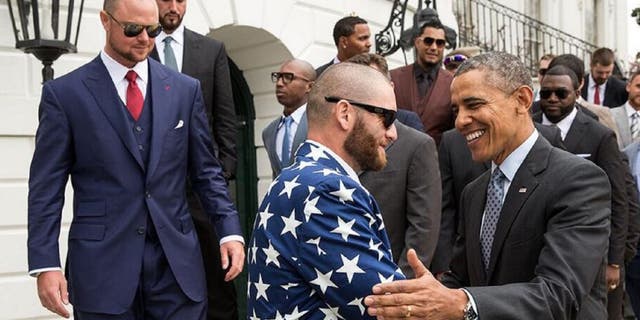 NEWYou can now listen to Fox News articles!
The Royals did not invite Jonny Gomes for their visit to the White House on Thursday. And Gomes, who makes no secret of his patriotism, is crushed.
"I've been sent down. I've been non-tendered, whatever," Gomes said. "But this is probably the worst news of my professional baseball career."
Gomes, though, is hardly the only person affiliated with last year's Royals who will be excluded from the team's trip to Washington, where the players will meet President Obama. A number of longtime employees also did not receive invitations, Royals officials said.
Royals general manager Dayton Moore said that the White House restricted the number of employees who could attend, and that ownership and the team's decision-makers established a policy to determine who would be eligible for the trip.
The Royals decided to include only players who were with the team for the entire season or members of their postseason roster. Gomes, who currently is a free agent after returning from an abbreviated stint in Japan, did not meet either criteria.
"We're a very inclusive organization. We recognize the great efforts of all of our people who contributed," said Moore, noting that ownership purchased about 700 World Series rings for employees.
"I wish everyone could be a part of this. Unfortunately, there is a limit on the travel party, and it's somewhat restrictive."
Moore did not know the exact number of people the Royals could bring to the White House, but said that the traveling party will include ownership representatives, team vice-presidents and assistant GMs, and that each person invited is allowed to bring one guest.
The list of team employees who will not be present includes team physician Dr. Vincent Key, scouting director Lonnie Goldberg, professional scouting director Gene Watson and director of baseball operations/analytics Mike Groopman. Don Free, who is in his 31st year as producer/engineer of Royals' radio broadcasts, also did not make the cut, team officials said.
Gomes, 35, had a brief tenure with the Royals, joining them in a trade last Aug. 31. He was not on the team's roster for the Division Series, League Championship Series or World Series.
Yet, he still made a contribution.
Infielder Christian Colon, after delivering the go-ahead hit in the 12th inning of the deciding game of the World Series, credited Gomes with an assist, saying the veteran counseled him before his big moment.
Gomes also made a memorable speech at the team's celebration following their downtown parade in Kansas City, holding a large American flag while saluting his teammates.
He previously visited the White House and met Obama as a member of the 2013 World Series champion Red Sox, wearing a stars-and-stripes blazer for the occasion.
"I'm not trying to throw an egg on anyone's face," Gomes said. "But a lot of people are asking me, 'Hey, are you going to wear that American flag jacket? Is Obama going to ask you to make that speech again?' It would be pretty cool. This is probably going to be Obama's last championship team before he leaves office."
An official with the Giants, who visited the White House after World Series triumphs in 2010, '12 and '14, said that the administration "really limits you on how many people can be invited."
The Red Sox, however, invited every player who had been with the club at least one day in '13, and even brought newcomer Edward Mujica, who had spent the previous season with the Cardinals, the Sox's World Series opponent, a club official said.
The Giants, after each of their three titles, brought their current players to Washington the following season; Mike Morse was the only former player to attend, a club official said, and that occurred last year only because his new team, the Marlins, had a day off.
Gomes, who began the season with Japan's Rakuten Golden Eagles and returned in early May, said he thought about the Royals' trip to the White House even while overseas.
"It wasn't maybe a top-five reason for me to leave Japan. But one of the first things that hit my mind once I signed the contract to go to Japan was, 'Oh s---, I'm going to miss the White House trip.
"Being from a military background, being patriotic ... I think that is one of the most epic rewards of winning a championship, getting that honor to go to the White House, be on stage, hang with the president," continued Gomes, who planned to join the Marines before the Rays selected him in the 18th round of the 2001 draft.
Gomes literally displays his patriotism every day, sporting a tribute to the U.S. armed forces with a series of tattoos on his lower right leg. The images include the Statue of Liberty, World War II aircraft, and military dog tags, plus an army helmet, bald eagle and No. 40 for the late Pat Tillman, who left the NFL to enlist in the Army and lost his life in Afghanistan.
Gomes also is a supporter of Troops Direct, a non-profit that provides supplies, food and other items to those who serve in the military. He even wore an official U.S. army helmet, presented to him by Master Sgt. Miguel Chacon, during the Red Sox's playoff celebrations in 2013.
"I've met some players, but I've never met a player as patriotic as Jonny. Never," Chacon told the U.S. Army website.
Gomes said he texted Royals traveling secretary Jeff Davenport about the team's trip to the White House trip after returning from Japan in May, and reiterated his interest in attending with several follow-up texts leading to the All-Star break.
On Friday, Gomes said, Davenport informed him that the list for the trip was full.
"I was like, 'The list is full, and I can't take anyone with me?'" Gomes said. "It kind of caught me off-guard. 'The list is full, and I'm not on it?'"
He heard correctly. The Royals are going to the White House, but Gomes and his stars-and-stripes blazer are staying home.