Patrick Beverly tearfully remembers his grandfather after finding out he died before Game 4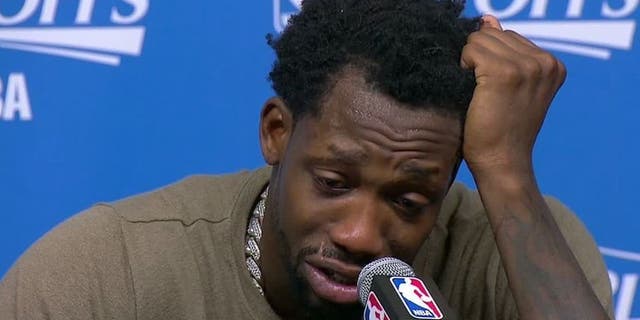 Houston Rockets guard Patrick Beverly played Sunday night against the Spurs despite finding out shortly before Game 4 that his grandfather had died. Beverly was fighting through tears during the game, almost breaking down after hitting the first shot of the game Sunday.
Beverly pointed to the sky after hitting the 3 a little less than a minute into the Rockets 125-109 win, wiping away tears as he got back on defense.
After the game, Beverly could not hold back his emotions as he remembered his grandfather.
Im really a strong guy and I can deal with a lot of things, but I cant deal with anybody suffering, Beverly said. He suffered but hes in a better place now. I tried to go out there and play as hard as I could for my teammates tonight. Thats the only man [my grandmother] knew for the last 26 years. I have to be there for my mom and my cousins back home in Chicago. Its just tough. Its just so tough, man.
Beverlys toughness was on full display Sunday as he played his usual brand of tenacious defense and added 10 points and six assists all while battling his emotions to help the Rockets even the series.