Pat McAfee describes his shocking first conversation with former Colts GM Ryan Grigson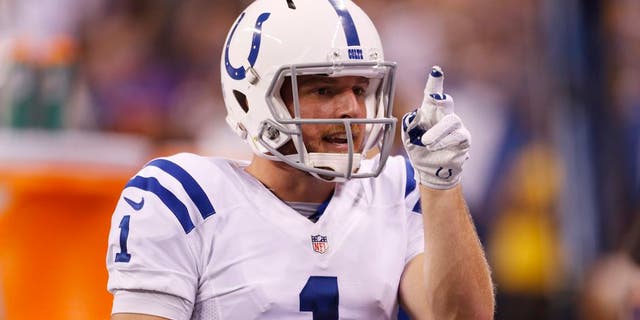 NEWYou can now listen to Fox News articles!
The Indianapolis Colts parted ways with general manager Ryan Grigson this offseason just one year after signing him to a contract extension. It was the best decision the team could have made as the Colts continued to flirt with .500 rather than rising well above it for a playoff spot.
Former Colts punter Pat McAfee was very outspoken when the news broke, celebrating Grigsons demise. After hearing how he was treated, its hard to blame McAfee for being happy about the firing. He revealed some shocking news on PFT Live Monday, disclosing the first conversation he had with Grigson.
The first conversation we had together, he told me I was the lowest thing in the organization, and he does not want to keep me, McAfee said. Mr. Irsay is forcing him to do it. Thats our first conversation we had. Whenever he cut our entire team [in 2012] and only kept a couple people, the first conversation he told me I was the lowest thing in the organization and the only reason why Im there because for some reason, Mr. Irsay wont cut [me]. Literally. Its not a love-hate relationship. Its been a hate relationship since day one. Whenever he got fired, I was real excited. It was a great day in my life.
Grigson has since been hired by the Browns as a senior personnel executive. It was a surprising move by a team that seems set in its ways with an analytics-based front office. McAfee was obviously surprised Cleveland brought him in and believes hiring Grigson is the only way that franchise could possibly get worse.
The only way the Cleveland Browns could get worse, they brought him in, McAfee said. Im trying to save the Cleveland Browns because the people of Cleveland deserve it. Theyre beautiful, theyre amazing people. I think they should just send him to Canada. I think it would be great news for everybody, and for America, and thats what Im really here for. America.
It's hard to imagine the Browns getting any worse by adding Grigson to the front office, so that's probably McAfee's hatred toward him showing through. The Colts, meanwhile, have had a terrific offseason under Chris Ballard and appear to be on the rise again.