Pass or fail: Grading Alabama's top true freshmen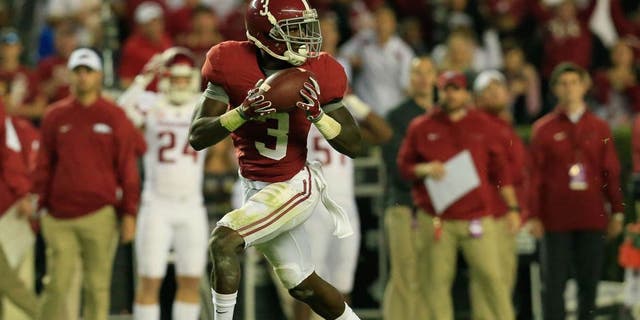 Alabama signed seven of the nation's top 50 prospects. How have they performed thus far? Marvin Gentry USA TODAY Sports
Alabama landed the top recruiting class once again last offseason, its fifth in as many seasons.
Despite the plethora of talent already on the roster, a number of its top prospects have already begun to see the field. With their first season on campus in the books, how have the first year players performed in limited action?
Pro Football Focus recently graded out the top 50 recruits in the nation, seven of which signed with the Tide. Here are their grades six games into their careers:
No. 11 overall recruit - WR Calvin Ridley
Ridley leads all true freshman receivers with 358 snaps and he ranks second in targets with 45. He leads Alabama with 31 catches for 385 yards and he's started to assert himself as their top option with 260 yards in the last two games, 159 of which have come after the catch (7.5 YAC per reception on the season).
No. 20 overall recruit - CB Kendall Sheffield
Has yet to play a snap this season.
No. 21 overall recruit - QB Blake Barnett
Has yet to play a snap this season.
No. 29 overall recruit - DT Daron Payne
Payne has become a bigger part of Alabama's defensive line rotation in recent weeks, totaling 98 snaps on the year. He's grading at +5.0 against the run with five stops and he's added three hurries on 56 rushes.
No. 30 overall recruit - CB Minkah Fitzpatrick
Fitzpatrick has stepped in and played 287 snaps, mostly in the slot for the Crimson Tide. He's grading at +3.1 overall and +2.7 in coverage, targeted 30 times, surrendering 18 catches for 110 yards and four passes defensed.
No. 31 overall recruit - HB Damien Harris
The No. 3 running back in the rotation, Harris has picked up 105 yards on 31 carries this season while playing 66 total snaps. He's forced only three missed tackles while averaging 2.5 yards after contact per rush.
No. 44 overall recruit - S Deionte Thomspon
Has yet to play a snap this season.