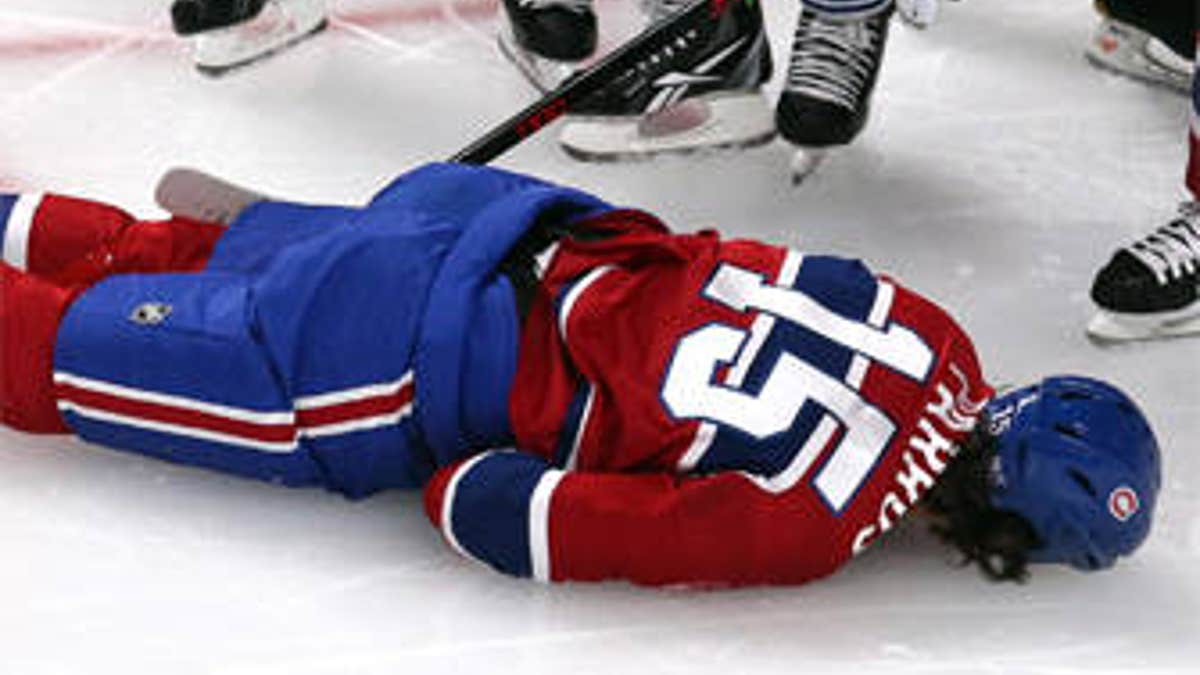 A scary sight unfolded late in the first game of the NHL season Tuesday night, as Canadiens enforcer George Parros slammed his face on the ice after stumbling over Maple Leafs tough guy Colton Orr during a fight late in the game at Montreal.
After lying motionless on the ice for a few a moments, Parros turned over, blood visible on his face and the ice. He was put on a stretcher and taken to the Canadiens' dressing room before being transported to an area hospital via ambulance.
Richard Wolowicz/Getty Images
It was the second fight of the night for Parros (the first was against Orr, as well), who was playing in his first game with Montreal after spending last season with the Panthers. In 452 career games entering this season, Parros, 33, has 1,007 penalty minutes.
After the game, the Canadiens announced that Parros was alert and conscious in the ambulance.
The Kings, the team Parros first played for, tweeted this later in the evening.
Our thoughts are with @GeorgeParros , hope he's ok. No one tougher in the league.
-- LA Kings (@LAKings) October 2, 2013 And other teams and players (former and current) sent their well wishes, too.
Sending our best from the nation's capital to Montreal's @GeorgeParros .
-- Ottawa Senators (@Senators) October 2, 2013 Praying for Big George Parros to be okay.Impressed Habs' GM Bergevin left the box to get to hallway to see him.
-- Kevin Weekes (@KevinWeekes) October 2, 2013 Lets hope @GeorgeParros is ok. Hate seeing a former teammate and good friend get hurt. Thinking of you guys @LTRBrands
-- Bobby Ryan (@b_ryan9) October 2, 2013 The Maple Leafs won the game, 4-3 .
-- The Associated Press and NHL.com contributed to this report