Parise might not play again for Devils this season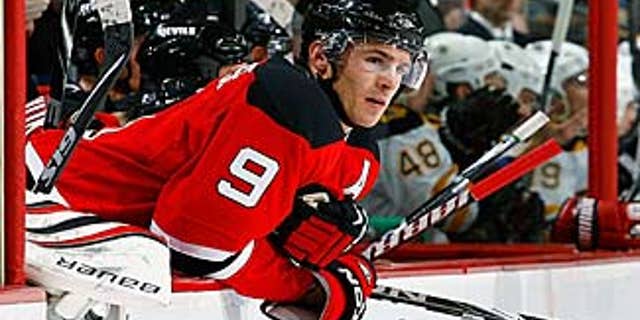 NEWARK, N.J. -- New Jersey Devils left wing Zach Parise won't be in the lineup Wednesday against the Toronto Maple Leafs and there is speculation he will not play in any of the team's remaining three games to close out the 2010-11 schedule.
Earlier in the evening, TSN hockey analyst Pierre McGuire told The Team 990 in Canada that Parise, who returned to the lineup on Saturday after missing 65 games, but was then scratched from Tuesday's loss against the Pittsburgh Penguins, was "done for the season."
Parise had two shots in 16:05 of ice time in a loss to Montreal on Saturday during his first start in six months.
Parise suffered a right knee injury in an Oct. 30 loss to the Los Angeles Kings after getting tangled up with the Kings' Kyle Clifford in the neutral zone and falling awkwardly. Dr. Anthony Miniaci of the Cleveland Clinic performed arthroscopic surgery on Parise to repair a torn meniscus Nov. 2. He received medical clearance to start skating on his own on March 2 and did that for three weeks before participating in his first full practice with the team on March 24.
He had 3 goals and 6 points in 12 games before going down with his injury.
Devils coach Jacques Lemaire didn't reveal whether or not Parise's absence was a result of soreness from the long-term layoff or for precautionary reasons since the team is no longer in the hunt for a Stanley Cup playoff berth.
"He's just not playing," Lemaire said.
"What's important to me is the individual, how he feels. It's all about how he feels. He feels that he's ready to go, ready to jump in, he goes in. If he's got any doubt, someone else can't change his mind. That's how it works."
Lemaire was mum on whether or not Parise would be available for the Saturday afternoon against the New York Rangers at Madison Square Garden or Sunday's season finale against the Boston Bruins in Newark.
"I don't know," Lemaire said. "We'll see."