Paralyzed HS player draws support from OU Heisman winners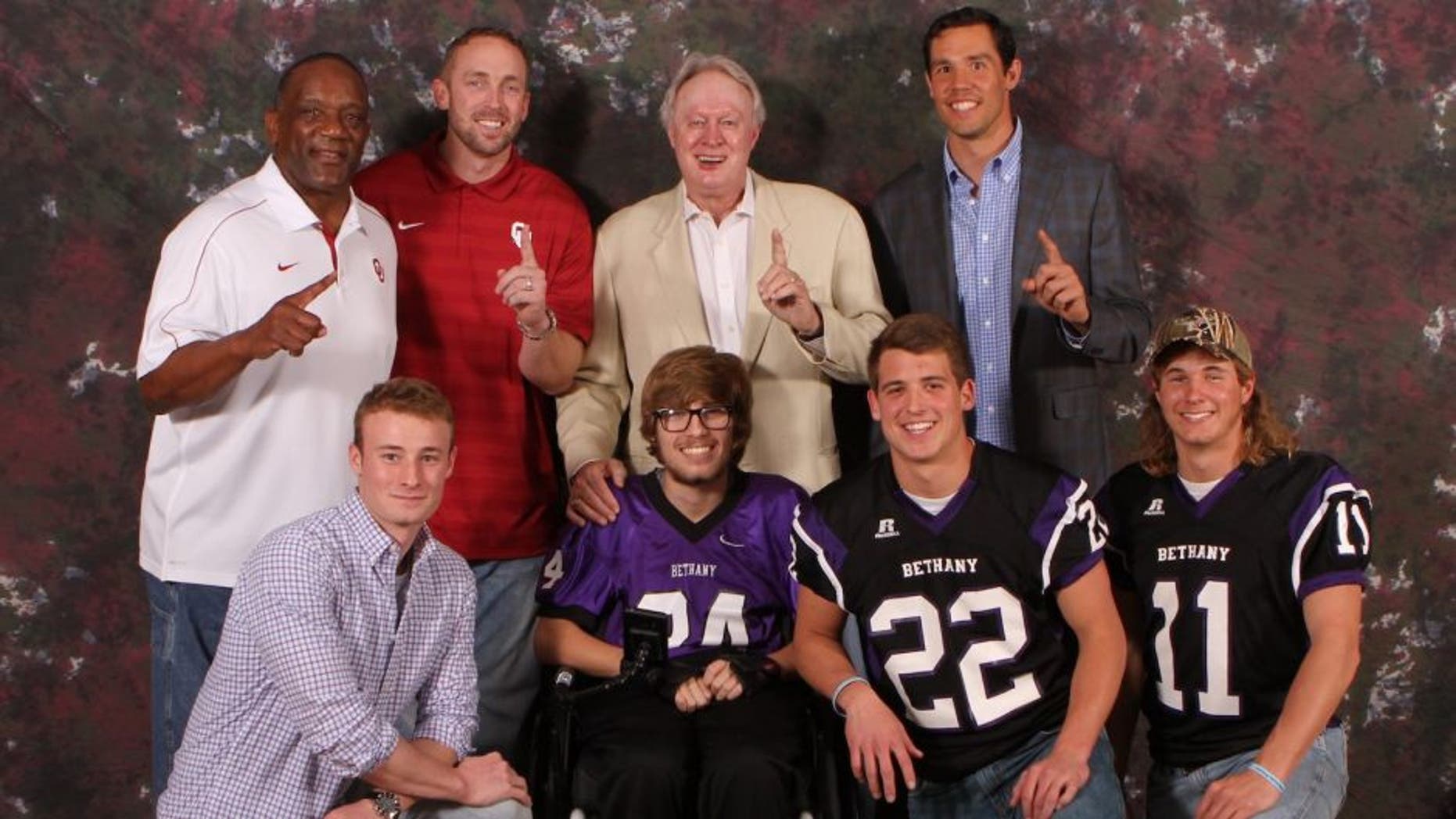 Hudson Haws isn't like other high school kids. His biggest challenges aren't finishing a four-page essay the night before it's due. His mind isn't hung up on getting into a good college. He has tougher hurdles to overcome -- hurdles that his classmates aren't forced to face.
Haws' life flipped on Oct. 23.
The injury occurred on a routine play. Haws, one of Bethany (Ok.) High School's toughest players was simply doing what he did best. The linebacker was patrolling the middle of the field, bringing down any ball-carrier who got past the defensive line.
"He's made that tackle 1,000 times," Tim Haws, Hudson's father and a school administrator, told FOX Sports recently. "It was so routine and so uneventful. As Hudson described it, he must have just hit him in the sweet spot."
Haws didn't get up and run back to the huddle. He didn't get a smack on the helmet from his teammates. He was motionless on the ground, paralyzed from the waist down.
The injury occurred early in the game, which only made matters worse. His teammates and coaches were left wondering about his condition. That was especially tough for Bethany head coach Reagan Roof, given his relationship with Haws.
"It's just a blur," Roof said. "I can't remember a single call from that game. After they got him off the field, every player had tears in their eyes and were visibly shaken. It was a challenge to finish the game."
Haws wasn't the most athletic player on the team. At 5-foot-10, 165 pounds, he wasn't the biggest or the strongest or the fastest. He was someone that would out-work everyone, and it showed. Roof described him as "everything we look for in a Bethany football player," and a "smart kid with a lot of heart."
Haws led the team in tackles two years in a row. His absence was a huge blow, but his passion and heart were bigger factors that the team missed.
"His buddies describe him to a T. He's not the guy opponents would pick out pregame and say 'Oh my gosh, look at that guy,'" Tim Haws said. "He was the kid that was everywhere. He had a great instinct for the ball, and never took a play off. What I love most is that he would go blow you up, jog back to the huddle, and just go again. No fist pumping, pounding his chest. He just went to work."
The injury left Haws with three broken vertebrae. After being taken off the field in an ambulance, he was medi-flighted to OU Medical Center -- a level-one trauma center in Oklahoma. At that point, the long, grueling recovery process began.
"He was there until November 9," Tim Haws said. "After that, we transitioned from there to Craig Hospital in Denver, which specializes in spinal cord and traumatic brain injuries. We stayed at Craig until January 21."
The initial diagnosis wasn't good. He went from being a high school kid who was one of the best players on the football team, to possibly being a quadriplegic.
The doctors put Haws thought an ASIA/ISCoS exam, which measures a patient's functional impairment following a spinal injury. It's based on a scale from A to E -- A being no feeling and E being complete neurological function. For Hudson, the results weren't promising as he had no feeling below the waist.
"He didn't have any feeling below the level of injury when they did an ASIA and the doctors told us he was never going to walk again and would be a quadriplegic for the rest of his life."
Now, Haws is back in Oklahoma rehabbing. His house has been remodeled to accommodate his needs, including a new upsized room. The changes and updates have helped, of course, but they don't make his recovery road any less daunting.
Still, Hudson has kept his spirits up and fought through obstacle after obstacle.
"On the field, his brain has always been his best asset," Tim Haws said of his son. "All of that has carried over to his therapy. He was doing seven to eight hours of therapy a day and going from event to event. Through all that, he only missed one session of therapy and that's because I told him he wasn't going. He just does what they tell him to do. It's incredible."
Haws has been blown away by his son's attitude, toughness and strength. Hudson has gone through endless hours of therapy and rehab -- something that's not easy for the toughest of people to persevere through. Yet, Hudson's personality hasn't changed. His joking nature has stuck with him.
"He's got a great sense of humor. That night he got hurt and his head coach was in his face and trying to get him to feel and grab his hand, he was down there cutting jokes with his coach trying to get him to laugh," Tim Haws said. "When we got him in the ambulance and they were cutting his jersey off, he was making jokes from his favorite show, 'The Office.' I heard him say 'This is the worst.' He was trying to be funny because that's one of his favorite lines that Michael Scott says."
To paint a picture of Hudson's personality, his father shares the story of the lone time his son cried.
"I've only seen him cry once and that was that night at OU when we hadn't got back to him yet," Haws said. "He was laying by himself on a flat board in a room -- he had been in there for quite a while. When we walked in, he had one tear roll down his cheek. That was the only time I've ever seen him cry through all of this.
"And when he was at OU, he had pneumonia in his left lung. They worked him over. It was brutal. And he took that like a champion. He's handled this much better than I ever dreamed I could when I was 17."
More than five months removed from the injury, Hudson has gained motion in his feet, which his father calls a "sign that God is at work." Progress such as that, moving his toes on command, leads Haws to believe his son will be able to move his legs voluntarily down the line.
Additionally, Hudson is back at school, hanging out with his friends and going through the daily grind of being a high school student. His peers and teammates have been there for him, keeping his chin up every step of the way.
"Where I see the biggest smiles on his face is when he's surrounded by his football brothers and classmates. Those are the people that have really made a difference," Haws said. "You can't come to my house any given night since we've gotten back from Denver without seeing pickup trucks all around my house. Just last night, his buddies loaded him up and took him to Cabela's. His first night back, they threw him in the back of a pickup truck like a sack of potatoes and off they went. They haven't even missed a beat."
In addition to his friends, the community of Bethany has come together. From fundraisers to visiting Hudson to sending letters, the rallying around Haws has been "humbling," as Tim described it.
Cliff Stout has headed the fundraising effort.
"We have had several local restaurants donating 10 to 15 percent of the sales to the Haws family," Stout said. "Swadley's donated barbecue and a cook staff to feed 3,000 people. The football team and parents served about 3,500 people in the Bethany High School gym and in a drive-thru lane one Sunday after church. And all of the proceeds went to the Haws family."
The biggest fundraiser, however, was a recent event that took eight weeks to put together.
It was called "Heisman 4 Hud."
The event was a historic fundraiser for the entire state of Oklahoma. Four former Sooners, all Heisman winners were in attendance, the first time they had all been together in the same room in Oklahoma.
Steve Owens, Billy Sims, Jason White and Sam Bradford all attended "Heisman 4 Hud" that night, supporting Hudson. It wasn't a college football or NFL banquet that brought the quartet together; it was a high school kid who could greatly use inspiration from some of the best-known players from his home state.
In addition to the four Heisman winners, several other players from the area came out to help. Chris Chamberlin, Billy Bajema, Rufus Alexander and Brandon Weeden, all of whom attended college in Oklahoma, were there.
"It was an incredible event. I was surprised by the amount of people there and the money that was raised," Cach Roof said. "It was something that was really unique. We had people that were at the banquet that were from all over and wanted to help any way they could."
The fundraiser attracted 480 people. And the money raised was staggering. According to Stout, it's expected to take $500,000 to take care of Hudson for the first year. After the Heisman event and several other fundraisers, they are close to reaching that number.
"Heisman 4 Hud" was particularly memorable for Tim Haws. Sooner blood runs in the family.
"I'm a huge OU fan. I graduated from OU, my wife went to law school at OU, my dad played football at OU. So I didn't really have a choice of being a Sooners fan, nor did I need one because I was hooked," Haws said. "So it was amazing to have those guys there. My dad always talked about Steve Owens. Billy Sims was one of the guys I always pretended to be when I was playing. Jason White and Sam Bradford -- they were so down to earth and all of those guys had gone through their own adversity."
The fundraising process continues, mainly in the form of a GoFundMe page. It's called the HudFund.
In the past four months, more than $258,000 has been raised, and that number has left Haws nearly speechless.
"Humbling. Overwhelming," he said when asked what the support has been like. "We're not used to being on the receiving end of so much generosity. Bethany, our hometown, has been amazing. I've had people contact us from all over the world. We've got so many people praying for Hudson. You're really reminded that there are a lot of great people out there. They've bathed us with their love and resources."