Panthers Take Newton as Top NFL Draft Pick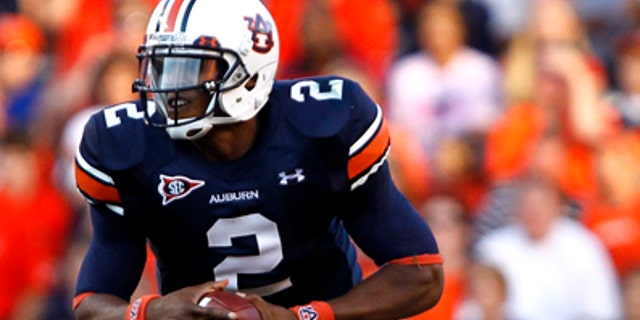 CHARLOTTE, N.C. – The Carolina Panthers selected Auburn quarterback Cam Newton with the No. 1 pick in the NFL draft Thursday night, gambling the Heisman Trophy winner will overcome questions about his character and work ethic to become the team's first franchise quarterback.
A year after going 2-14 with the NFL's worst offense, the Panthers bypassed safer choices such as Alabama defensive tackle Marcell Dareus, LSU cornerback Patrick Peterson and Georgia receiver A.J. Green for Newton, who dazzled in his only season playing major college football.
"He has special qualities," general manager Marty Hurney said. "We've had a strong feeling for some time that he was the person who we felt could come in and have the most impact on our football team."
At the draft headquarters in New York, Newton said he got a call from Hurney and new coach Ron Rivera just before the selection was announced. As Newton hugged his family, the selection was met with enthusiasm and chants of "Cam! Cam! Cam!" from fans attending a draft party at Bank of America Stadium.
"It was like a shock went through my body," said Newton, wearing a blue Panthers' cap. "I'm just blessed. ... I can't wait to get to my new hometown of Charlotte."
At 6-foot-5 and 248 pounds, Newton combined brute strength to barrel over defenders on the run with a strong, accurate arm. He accounted for 50 touchdowns, a 14-0 record, won the Heisman Trophy and led the Tigers to the national championship.
But Newton carries baggage and questions, making him likely the riskiest pick in Carolina's 17 seasons.
The College Park, Ga., native started college at Florida but left amid reports he was about to be disciplined for academic cheating. That came after an 2008 arrest involving a stolen laptop, a charge that was later dropped when he completed a pretrial intervention program for first-time offenders.
A Mississippi State booster later claimed Newton's father tried to get the Bulldogs to pay $180,000 for his son to play for them. Newton ended up at Auburn and was dominate despite an NCAA investigation which eventually determined Newton didn't know of his father's pay-for-play scheme.
Rivera said they did tireless research talking with former coaches and teammates.
"I can tell you he's the most researched player I've ever been around," Rivera said.
But character questions aren't the only issues with Newton. He played in a simplified spread offense at Auburn in which he was always in the shotgun and had few reads to go through. Several draft pundits have questioned Newton's work ethic.
Rivera stressed Newton isn't designed to be a "franchise savior," but said he'll get a shot to play as a rookie. Rivera acknowledged they may have to scale down the playbook so as not to overwhelm him, but they'll also add elements to take advantage of his skills.
The Panthers, who last took a quarterback in the first round when they selected Kerry Collins fifth overall in their inaugural season in 1995, have been vocal in their need for a major upgrade under center. They did extensive background checks on Newton and are confident he can develop into a mobile, dual threat QB such as Ben Roethlisberger or Michael Vick.
Carolina has defined poor quarterback play since Jake Delhomme's six-turnover performance in a January 2009 playoff loss to Arizona.
Delhomme never recovered, throwing 18 interceptions the following season before he was released in the spring. Matt Moore was decent in his place late in 2009, but the following season was a different story.
Carolina's 2-14 campaign started with Moore's three end zone interceptions in a loss at the New York Giants and ended with rookie Jimmy Clausen mustering one touchdown at Atlanta.
Moore and Clausen combined for eight touchdowns and 19 interceptions. Clausen went 1-9 as a starter without a 200-yard passing game or a touchdown pass to a wide receiver. The Panthers averaged one offensive touchdown per game and their 196 points were a franchise low, 75 fewer than any other team.
Clausen and Tony Pike, also a rookie last season, are the only quarterbacks under contract for next season. Moore is slated to be a restricted free agent under the old collective bargaining agreement. Hurney said it was possible they'll sign a veteran QB.
The Panthers were in an odd position for this draft thanks to the labor dispute putting free agency on hold. With current players barred from being involved in draft deals and with no clear-cut No. 1 choice, Hurney's phone didn't ring with offers from teams interesting in grabbing the top pick.
Newton's star power could help a sagging franchise looking to boost ticket sales and sponsorship deals after being the league's worst team in 2010. But the move may determine Hurney's future and quickly define Rivera's tenure. The former San Diego Chargers defensive coordinator replaced John Fox in January.
"I started with eight guys in my mind," Rivera said of the top pick. "It became seven and then four and I tried to ride that for as long as I could. But everything kept pointing back to Cam."