Panthers take another step toward undefeated season in nasty win over Giants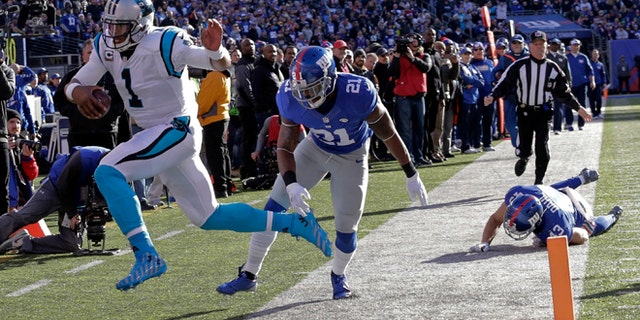 EAST RUTHERFORD, N.J. (AP) – On a day that he threw for five touchdowns and led a game-winning drive to put the Carolina Panthers two wins away from a perfect season, Cam Newton ended up a sideshow.
Nastiness took center stage as the Panthers (14-0) pushed the Giants (6-8) closer to a fourth straight year out of the playoffs.
People aren't going to remember either Graham Gano's decisive 43-yard field goal as time expired or the Giants rallying from a 35-7 third-quarter deficit to tie the game on Eli Manning's fourth touchdown of the game, a 14-yarder to Odell Beckham Jr. with 1:46 to play.
All that people are going to remember are the frequent run-ins between Beckham and Panthers cornerback Josh Norman. Time and again the two tangled in the contest at MetLife Stadium, and it was ugly: pushing, shoving, swinging, late hits, helmet-to-helmet contact and a lot of trash talking.
The worst was Beckham charging from his own sideline to hit Norman with a diving, head-to-head block attempt.
Beckham was flagged for a personal foul, one of three he picked up in the game.
Norman called Beckham immature and felt he should have been ejected.
"The guy ran 15 yards down the field — a dead on collision," Norman said. "The play was all the way on the left side. He came back and was hunting; and it was malicious in every way. I hope the league offices get a chance to review the film and see what they can do, because players like that don't deserve to be in the game. I mean it's ridiculous."
Beckham, who dropped a certain touchdown pass on the opening series, refused to discuss his run-in with Norman, skirting the questions by saying the loss was unfortunate.
Ask about the personal fouls, he said, "You never want to hurt your team like that. I have learned it all throughout my life you know, always second man gets called, always, that it is just unfortunate."
A frustrated coach Tom Coughlin said Beckham lost his composure, adding he seriously considered taking his star receiver out of the game to calm him down. He didn't.
"He's got to learn at some point how to deal with some things on the field," Coughlin said.
NFL spokesman Michael Signora said disqualifying players is a judgment made by the on-field officials.
"The actions of the players involved in unsportsmanlike conduct will be reviewed as per the standard protocol that is followed in all situations of this type throughout the season," he said.
There is little doubt that Beckham will be fined. A suspension is a possibility. Norman also was flagged for a personal foul, so he might face a fine.
"Josh has got to learn to play through those things," Panthers coach Ron Rivera said. "He's such a talented young man. He's very emotional and he's got to learn to maintain his composure and play through those types of situations."
It all took away from what turned into a very good football game.
Here are some things to note from Sunday's game:
NEWTON ON ROLL: Newton is adding to his MVP credentials with each game. He has thrown for 19 touchdowns in the last five games and a career-best 33 in this so-far special season. He threw for 340 yards and his 10-yard scramble got Gano into range for his game-winner. It also capped a 100-yard rushing performance.
"It was kind of a weird feeling in that locker room, and I'm still feeling kind of weird, but not enough to (not) celebrate," Newton said. "We're just trying to find a way to get victories."
HOME FIELD ADVANTAGE: Carolina became the fourth NFL team to start 14-0. However, it did not clinch home-field advantage in the NFC for the playoffs because Arizona (12-2) knocked off the Eagles on Sunday night. The NFC South champions can clinch home field with a win or tie in their last two games (at Atlanta, Tampa Bay at home) or a tie or loss by the Cardinals.
All three previous NFL teams to reach 14-0 — Miami in 1972, New England in 2007 and Indianapolis in 2009 — made the Super Bowl. Only the Dolphins won the championship, though.
GIANTS PLAYOFF PICTURE: Despite losing for the fifth time in seven games, the Giants have a chance to win the NFC East. Washington, which beat Buffalo, leads by a game. If the Giants beats Minnesota on the road and Philadelphia at home and the Redskins lose road games at Philadelphia and Dallas, New York gets to the playoffs with a .500 record. A loss or a Washington win and the Giants are eliminated.
GIANTS FOLD AGAIN: This was the fourth time New York has lost in the final 7 seconds, including three on the final play. Add in the lead the Giants gave up in the final 1:14 against the Falcons and it is five late losses. Seven of their eight losses have been by a total of 21 points, and six of them have been by four points or less.
"We can't rewind the tape, if we could we all would," halfback Rashad Jennings said.
RUN RASHAD: The Giants finally produced their first individual 100-yard rusher this season. Jennings carried 16 times for 107 yards, including a 38-yard touchdown run that ignited a 21-point fourth-quarter. The team had season-high 161 yards rushing on 27 carries.