Panthers' Rivera knows he has to win now even though he hasn't been given ultimatum by owner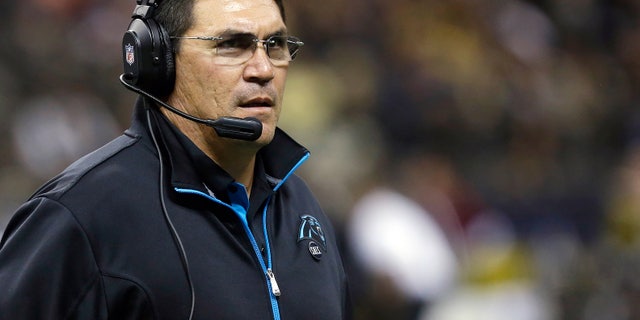 CHARLOTTE, N.C. – Panthers owner Jerry Richardson doesn't need to remind coach Ron Rivera just how important winning in 2013 is to his future as an NFL head coach.
He already knows.
Rivera told The Associated Press Tuesday that when he met with Richardson earlier this month and was informed he'd be returning for a third season in Carolina, he wasn't given a make-the-playoffs-or-else ultimatum from his boss.
"He doesn't want me looking over my shoulder," Rivera said. "He wants me to coach."
But while the coach said Richardson has been supportive, he acknowledged there's an underlying sense of urgency.
"I understand we need to win — and he knows I understand that," Rivera said. "He's been forthright and direct. Now it's up to me."
Richardson's patience is wearing thin.
The Panthers haven't made the postseason since 2008 and haven't won a playoff game since 2005.
Carolina went 6-10 and 7-9 the past two seasons under Rivera.
The 76-year-old Richardson fired longtime general manager Marty Hurney following a 1-5 start and informed Rivera the Panthers needed to be "trending upward" the rest of the season for him to keep his job.
The Panthers responded by winning five of six games down the stretch, including their final four to finish in second place in the NFC South.
After more than a week deliberating, Richardson met with Rivera and told him he still had a job.
New GM Dave Gettleman also gave Rivera a nod of approval recently, saying in his introductory press conference that "I don't have a list of head coaches in my back pocket. I have no interest in that."
But to say Rivera's job is secure would be a stretch, particularly if the team gets off to another slow start next season.
The Panthers have started 2-8 in each of the last two seasons under Rivera, essentially ruining any shot at the playoffs. They're 9-3 overall in post-Thanksgiving Day games.
That strong finish — and the promise of a brighter future — helped save Rivera's job.
"We have to continue that trend," Rivera said. "We cannot take a step back. I know that. The players know that. The coaches know that. But it's going to be up to me — and deservedly so. I'm the head coach and that's why I've done the things I've done this offseason."
One of those things was to promote quarterbacks coach Mike Shula as the team's new offensive coordinator to replace Rob Chudzinski, who left the team to become the head coach of the Cleveland Browns.
Shula's track record in his previous four seasons as an offensive coordinator with Tampa Bay wasn't spectacular numbers-wise.
The Bucs finished 29th in total offense during that span — but reached the NFC championship in Shula's final season there in 1999.
Rivera said Shula's working knowledge of the Carolina offense and familiarity with franchise quarterback Cam Newton helped earn him the job over outsiders Hue Jackson and Pat Shurmur, both of whom interviewed for the position.
The coach said the decision centered around Newton's late-season development.
Over the final six games Newton combined for 14 touchdowns — 10 passing and two rushing — and had only two turnovers. The Panthers simplified the playbook and asked Newton to do less on offense.
Less turned out to mean more.
"I think the way Cam played the second half of the season, protecting the football the way he did and not giving up big sacks, just the way he played, his growth...." Rivera said. "He really had to go through the maturation process."
He didn't want to ruin that momentum by forcing Newton to learn a new system.
"That was it," Rivera said. "Mike was with (the other candidates) step-for-step in terms of offensive thinking and planning and strategy. But the bottom line is familiarity with who we are as a football team.
"You also have to be concerned (with a new coordinator) with how much of what you do will he use and how much of what he's done in the past will he add? The thing I felt like we needed to do was stick to what we did down the stretch, refine those things and, in some cases, correct the things we had problems with. Listening to Mike, if we were going to add something it was going to be in line with what we've done in the past."
Rivera believes strengthening the team's line play is a priority on offense and developing the team's young receivers is a must. Defensively, he likes the front seven but said the young secondary will need to grow up in a hurry.
He also wants to find a dual threat return man and most consistency from his young kickers Graham Gano and Brad Nortman.
Most of the improvements will have to come from players on the roster because at $16 million over the projected salary cap the Panthers will be doing more subtracting than adding to their current roster this offseason.
Still, Rivera remains optimistic.
"I think this team can grow into a playoff team, I really do," Rivera said. "Mostly because of the way we played down the stretch and who we beat down the stretch. It's not like we beat teams that were all under .500 or we beat teams that didn't have good players. To me, that shows you are trending in the right direction, and I think that is important."