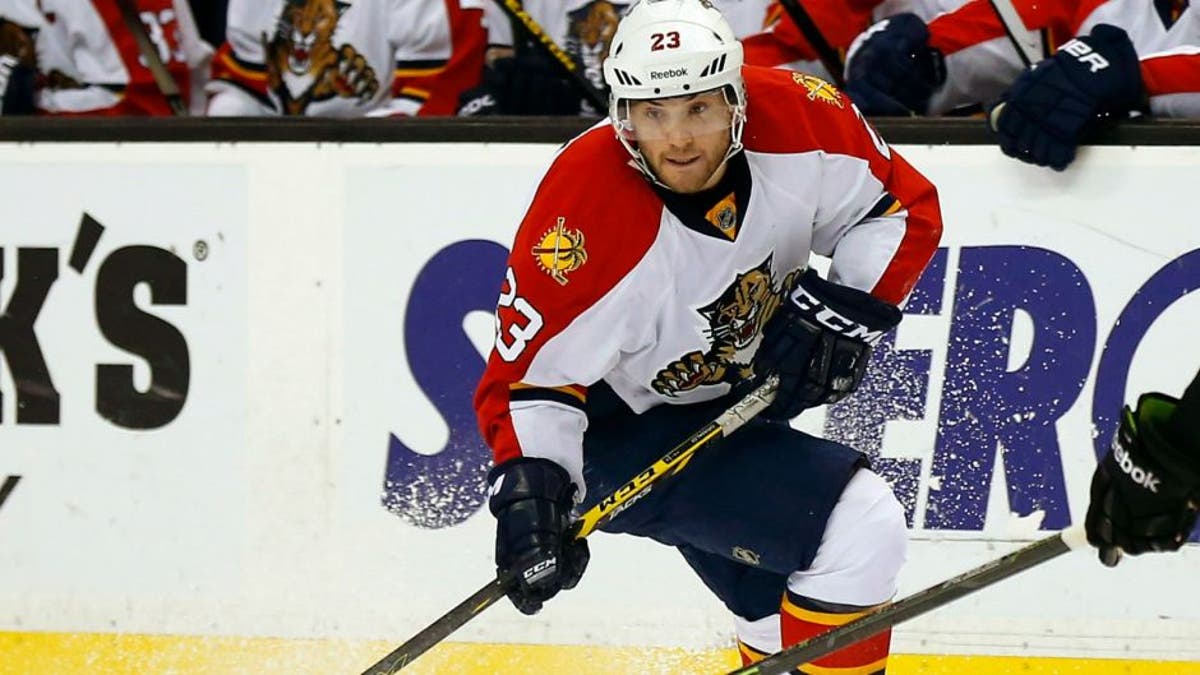 SUNRISE, Fla. -- The Florida Panthers announced the club's rookie camp schedule including participation in a four-team rookie tournament taking place at Germain Arena in Estero, Fla. from Saturday, Sept. 12 to Tuesday, Sept. 15. Panthers prospects F Lawson Crouse (2015 first round, 11th overall), D Michael Matheson (2012 first round, 23rd overall) and F Rocco Grimaldi (2011 second round, 33rd overall) are among the players selected to participate in the rookie camp and tournament.
Hosted by the Tampa Bay Lightning, the Panthers join the Nashville Predators and Washington Capitals in the tournament, featuring six games showcasing each team's prospects. All games are free and open to the public.
Prior to the tournament, Panthers rookies will skate at Florida Panthers IceDen in Coral Springs, Fla. on Friday, Sept. 11 from 10 a.m. -- 12 p.m.
The tournament schedule is as followed:
SATURDAY, SEPT. 12
3:00 p.m. -- Florida at Washington
7:00 p.m. -- Nashville at Tampa Bay

SUNDAY, SEPT. 13
3:00 p.m. -- Nashville at Florida
7:00 p.m. -- Tampa Bay at Washington

MONDAY, SEPT. 14
10:30 a.m. -- 12:00 p.m. -- Practice

TUESDAY, SEPT. 15
10:00 a.m. -- Washington at Nashville
2:00 p.m. -- Florida at Tampa Bay

The Panthers will have a total of 25 players participating in the tournament/rookie camp with 14 forwards, eight defensemen and three goaltenders.
FORWARDS
62 Darik Angeli*
50 Chase Balisy
86 Connor Brickley
67 Lawson Crouse
23 Rocco Grimaldi
8 Jayce Hawryluk
72 Stephen Johnston*
81 Zac Larraza*
82 Denis Malgin
98 Lukas Lofquist*
70 Stephen MacAulay*
92 Kyle Rau
85 Nick Sorkin*
84 Lukas Sutter*

DEFENSE
83 Kyle Becker*
76 Mike Boivin*
80 RJ Boyd*
96 Josh Brown
74 Evan Fiala*
56 Michael Matheson
88 Thomas Schemitsch
52 MacKenzie Weegar

GOALTENDERS
31 Sam Brittain
90 Samuel Montembeault
60 Colin Stevens

* Indicates tryout
Roster and practice time are subject to change.
The Florida Panthers will face the Philadelphia Flyers in their season opener at BB&T Center on Saturday, Oct. 10 at 7 p.m. Single game tickets are now available for purchase for prices as low as $20. Full and partial Panthers season ticket packages are also available that include the best prices, access to team events, an interest-free payment plan option and more. Please call (954) 835-PUCK or visit FloridaPanthers.com/TicketCentral to purchase your ticket plan.
Home to the Florida Panthers Hockey Club and leading international concerts and events, the Broward County-owned BB&T Center is one of the top ranked venues of its kind in the world, servicing Broward, Collier, Miami-Dade, Monroe and Palm Beach Counties. Florida Panthers Social Media is powered by Ford - follow us on Twitter, Facebook, and Instagram.