Panthers offseason to-do list, starting with keeping Josh Norman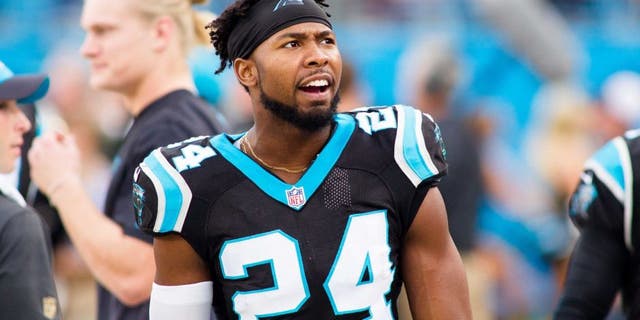 NEWYou can now listen to Fox News articles!
Now that the Super Bowl is over, we're rolling out a get-to-the-point offseason plan for both teams involved. First the Panthers, and later Monday the Broncos. Here's our three-point plan for Carolina.
1. Keep Josh Norman -- one way or the other
The cornerback had a breakout season in 2015 -- picking up his first All-Pro and Pro Bowl recognition in his fourth year -- and will be an unrestricted free agent looking for a huge payday. The Panthers will no doubt try to work out a contract, but if they can't come to an agreement they will probably use the franchise tag. That's fine. The one thing they don't want to do at this stage is break up this young defense. That unit was the heart and soul of a Super Bowl team and will continue to do the heavy lifting going forward. Norman has proven himself to be a shutdown corner quarterbacks are afraid to target, which makes the 10 other defenders on the field that much better.
2. Use this Super Bowl loss as motivation
This will be tough. The Panthers saved their worst performance of the 2015 season for the grandest stage of them all. However, elite teams use moments like this to fuel them going forward. And that's what the Panthers must do. So take a day or two to rub the wounds and then get back to work. Watch film like a demon. Live at the gym. Make sure every rep at OTAs is done with that singular focus to get back to this game and avenge an ugly defeat. It won't be easy because teams that lose Super Bowls don't have a great track record the following season. However, this team is young enough to be the exception and not the rule.
3. Get younger at running back and better at receiver
Jonathan Stewart was a reliable option in the backfield, but he will turn 29 years old in March and averaged 4.1 yards per carry, down from 4.6 a year ago. Rookie Cameron Artis-Payne -- who was inactive for Sunday's Super Bowl -- could be an option going forward, but he got only spot duty when Stewart sat out a few games with an injury. It might be time to spend a higher pick on the position than the fifth-rounder used on Artis-Payne. At wide receiver, Carolina will get No. 1 target Kelvin Benjamin back in 2016 and will pair Philly Brown opposite him. However, it might be time to find a replacement for Ted Ginn -- who, despite having great speed, just doesn't have the reliable hands needed during crucial moments.
EARLIER TO-DO LISTS
• Tennessee Titans
• Houston Texans
• Cincinnati Bengals
• Minnesota Vikings
• Washington Redskins
• Cleveland Browns
• Dallas Cowboys
• San Diego Chargers
• Kansas City Chiefs
• Green Bay Packers
• Seattle Seahawks
• Pittsburgh Steelers
• San Francisco 49ers
• Baltimore Ravens
• Jacksonville Jaguars
• Tampa Bay Buccaneers
• New England Patriots
• Arizona Cardinals
• Chicago Bears
• New York Giants
• Miami Dolphins
• New Orleans Saints
• Philadelphia Eagles
• Oakland Raiders
• Detroit Lions
• St. Louis Rams
• Indianapolis Colts
• Buffalo Bills
• Atlanta Falcons
• New York Jets