Panthers' Brown: Aqib Talib is 'immature' but shouldn't be suspended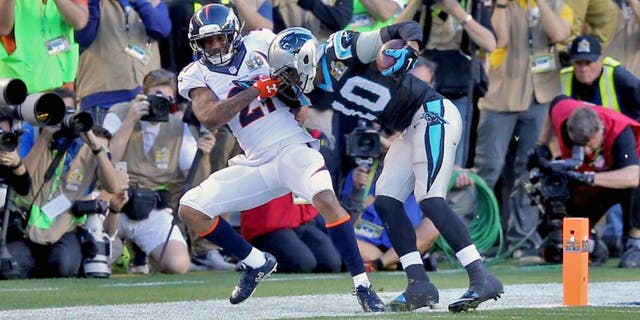 Carolina Panthers wide receiver Philly Brown isn't holding a grudge against Denver Broncos cornerback Aqib Talib for his violent facemask penalty in the first half of Super Bowl 50.
A fine is a virtual certainty, but the NFL may also consider suspending Talib for his actions. Brown called the 29-year-old defensive back "immature" in a tweet, but he doesn't think a suspension is necessary.
Via Brown's verified Twitter account:
The facemask occurred early in the second quarter, when Panthers quarterback Cam Newton found Brown open for a 13-yard gain. Although Talib's penalty was egregious -- he said that he did it "on purpose," per NESN -- the flag only cost Denver a yard because it occurred at the two-yard line. Carolina's Jonathan Stewart plowed into the end zone on the very next play, but the Broncos still won the game by two touchdowns.
The league may not let Talib get away so easily. The Panthers play the Broncos on the road next season, but the date/week of the matchup hasn't been set yet. We'll see if Denver's star cornerback will be on the field when these two teams meet again at Mile High Stadium in 2016.