Palmer hurts knee; Stanton, defense rally Cardinals past Rams 31-14.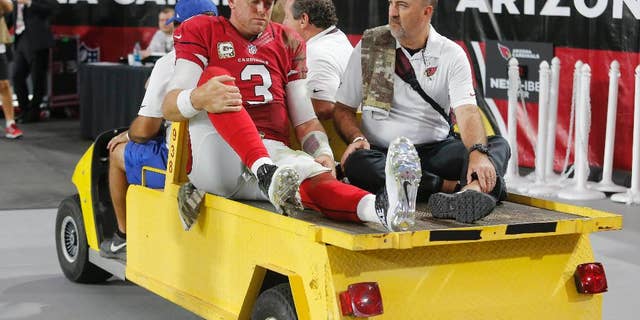 GLENDALE, Ariz. – Carson Palmer went down with a fourth-quarter knee injury, then backup Drew Stanton and the Arizona defense rallied the Cardinals to a 31-14 victory over the St. Louis Rams on Sunday.
John Brown's diving grab of Stanton's 48-yard touchdown pass put the Cardinals (8-1) up 17-14 with 7:40 to play. The pass came on the first series after Palmer hurt his left knee while trying to avoid the rush.
He was able to walk off the field but a short time later was taken to the locker room on a cart.
Patrick Peterson got his first two interceptions of the season, returning the second one 30 yards for a touchdown to make it 24-14. Moments later, Austin Davis fumbled and Antonio Cromartie returned it 14 yards for a score as Arizona outscored the Rams 21-0 in the fourth quarter.
St. Louis (3-6) was shut out in the second half.