Paige VanZant looks up to Ronda Rousey but wants to forge her own path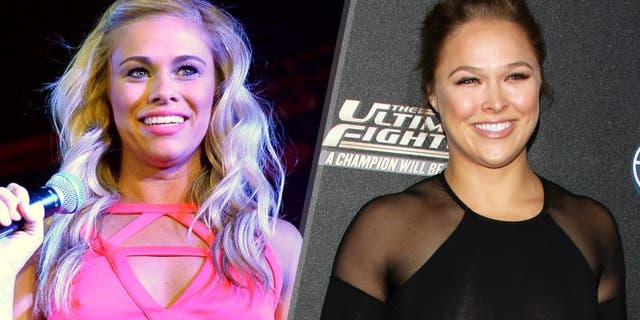 Paige VanZant doesn't mind one bit that she gets compared to UFC women's bantamweight champion Ronda Rousey whenever someone is discussing her career goals and aspirations to do more than just be the best fighter in the world.
VanZant is still relatively young in her career, not to mention only being 21 years old, but she was a performer long before she was the No. 7-ranked strawweight in the world.
With an extensive background in dance as well as modeling before she transitioned to fighting, VanZant has a lot of interests that keep her busy. Just like Rousey, she wants to keep juggling all of the things she loves while climbing up the ranks at 115 pounds.
Some might say having that many outside interests in a distraction if she wants to be champion one day, but VanZant doesn't have to look any further than Rousey as proof that you can be the best fighter in the world and still have plenty of time for other endeavors.
"I do look up to Ronda. I see how she's handling everything and I can use her as inspiration and guidance," VanZant told FOX Sports. "I feel like I am going through some of the things she went through when she was in my position, and it's awesome to have that person to look up to.
"Someone who has done it already, survived and she just keeps climbing to the top and she just keeps breaking barriers. Every time we think she's reached the top, she breaks through another ceiling. It's amazing to see how much success she's having and obviously I would love to follow in her footsteps."
As strange as it might sound, VanZant's background in dance and other performing arts actually helped her prepare for life in the UFC.
Before she debuted, VanZant was already accustomed to the pressure that comes along with having a crowd watch your every move and where making one mistake can spell disaster.
Despite her age and only having six professional fights, VanZant handles everything like a veteran, from interviews to appearances and even public speaking engagements. Everything is a learning experience according to VanZant and she's soaking it all in and never taking any opportunity for granted.
"I love that I'm able to be good in front of a crowd," VanZant said. "I've always done really, really good with pressure from the crowds and I love that I do have fans.
"I think that for me, I don't feel too young. I don't feel like I'm the young person in my position. I'm just going to enjoy every second of it because eventually someone else is going to come in and they are going to be the younger one. So I'm just going to live it up and soak up everything while I can."
Right now, VanZant is mainly focused on her fight at UFC 191 against Alex Chambers in Las Vegas, but she's always got her eyes on what might come next.
Similar to Rousey, VanZant has aspirations that she hopes takes her to Hollywood for a second career in acting or performing. The last thing VanZant wants is to get pigeonholed into only being defined as one thing.
Just like she's a pretty face who can pack a punch -- VanZant wants to be a top-ranked women's fighter who is also an in demand actress.
"I would love to go do movies, I would love to kind of delve into other things," VanZant said. "I did do acting and modeling before when I was a kid so it would be nice to use those things.
"I have so many other talents other than fighting and I would love to be able to show those off. I would like to say 'yes, I'm a fighter and I'm this' or 'yes I'm a fighter, but I'm also this'. I have so many other things that I'm passionate about and I would love to chase those dreams as well."
Rousey has definitely forged the path for other fighters to help make that happen and VanZant sees her as great inspiration to know she can get there one day as well.
But as much as she looks up to the UFC women's bantamweight champion, VanZant also knows it's important to walk her own road and create own legacy.
"I definitely am going to be doing it on my own terms," VanZant said when comparing herself to Rousey. "I'm making my own path."