Padres visit Phillies in matchup of struggling clubs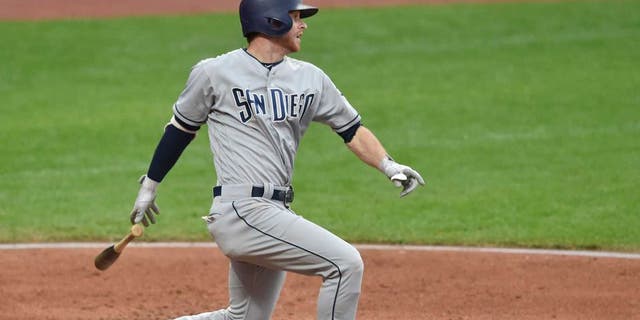 PHILADELPHIA -- Two teams struggling for positive results meet for a three-game series this weekend as the San Diego Padres continue a six-game road trip with a stop in Philadelphia to face the Phillies.
San Diego (36-49) had a three-game winning streak end Thursday night in an 11-2 loss to the Cleveland Indians.
"All around, this was not a good effort by us," said Padres manager Andy Green, whose team managed five hits while committing three errors.
The Phillies, owners of the worst record in baseball, 28-56, haven't won three consecutive games since June 3-6. That was one of only two times all season they won more than back-to-back contests. They are coming off a 6-3 home loss to the Pittsburgh Pirates on Thursday, their third straight setback and fifth in seven games.
Philadelphia rookie Nick Pivetta (2-4, 4.85 ERA) will face the Padres for the first time in his career. The right-hander will be making his 11th career start, and he is coming off one of his strongest outings. He pitched seven terrific innings against the New York Mets on Sunday when he gave up only one hit -- a solo home run -- while striking out four.
Pivetta's biggest issue has been walks. He has issued 28 in 52 innings while throwing about 60 percent of his pitches for strikes. He has walked at least four batters in five of his 10 starts.
"He still needs work on his secondary pitches, but once he hones those, he's got a chance to be really good," manager Pete Mackanin said after the win over the Mets. "I really like him."
Padres starter Clayton Richard (5-8, 4.85 ERA) will be facing the Phillies for the first time this season. He has pitched against Philadelphia seven times (three starts) in his career, going 0-4 with a 3.86 ERA.
All three of Richard's outings against Philadelphia last year were relief appearances, as was one in 2015. The left-hander hasn't started against the Phillies since May 11, 2012.
Richard gave up seven runs on nine hits and four walks in 4 1/3 innings of a 10-4 loss to the Los Angeles Dodgers on June 30 in his most recent start. In his past two outings, he has given up 12 runs in 9 2/3 innings.
He leads the National League by inducing 196 ground balls this season.
San Diego catcher Austin Hedges is expected to return to the lineup Friday after missing two games because of a stick neck. Green said Hedges was improving Thursday but decided to give him another day off.
"Yeah, he feels a lot better," Green said. "By his account, he's good to go (Thursday). But with me, just kind of looking at him and (him) saying he's still a little bit stiff, I just felt like there is no reason to push it given where we are right now."
Hedges is batting .214 with a .258 on-base percentage, 11 home runs and 36 RBIs in 72 games this season.