Padres shut down Indians 6-2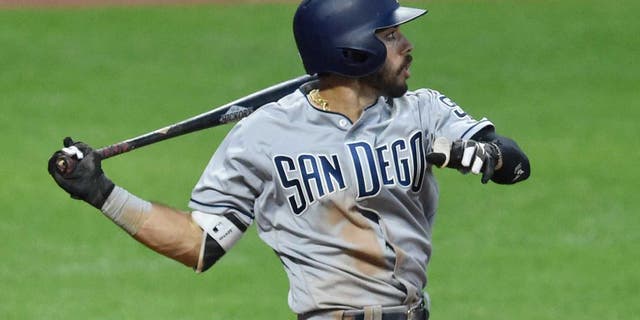 CLEVELAND (AP) -- While the Indians remain concerned about manager Terry Francona's health, the defending AL champions have plenty of smaller worries.
They aren't stringing hits together. They aren't winning at home. They aren't beating National League teams.
A season of inconsistency isn't improving.
Cory Spangenberg hit a two-run homer, Luis Perdomo won his third straight start and the San Diego Padres got another rare road win, beating Cleveland 6-2 on Wednesday night as the Indians were again without Francona, who remains in a Cleveland hospital.
Despite getting 14 hits, the Indians scored twice, their smallest output in a nine-inning game with that many hits since 1949.
"It's tough," said All-Star shortstop Francisco Lindor. "I guarantee we're trying. That might be why we're not scoring. We might be trying a little too hard. It's just our pitching staff is doing their job and all us hitters are not doing it.
"We're going to try to turn it around. We're still in first place, but we're not satisfied with how we're doing right now."
Perdomo (4-4) allowed one earned run in five innings and continued his turnaround after a rough start this season. The right-hander didn't get his first win until his 11th start and is 4-1 since June 12.
Carlos Asuaje drove in two runs and the Padres did just enough against starter Trevor Bauer (7-7) to improve to 14-26 on the road.
With the Padres leading 4-2 in the seventh, Spangenberg connected for his fifth homer, a shot to left off reliever Zach McAllister.
The four-run deficit was too much to overcome for the Indians, who have been blanked over 8 2/3 innings by San Diego's relievers so far in the three-game series.
Cleveland is 4 for 25 with runners in scoring position in the past two games.
Lindor had three hits and two RBIs for the Indians, who dropped their second straight to the Padres, fell to 18-23 at home and are 2-11 in interleague play.
Cleveland is one of just three AL teams with losing home records.
Francona missed his second straight game as he remains at the Cleveland Clinic. Francona, who was hospitalized twice last month, has been undergoing tests to determine what has been causing light-headedness and increasing his heart rate recently.
Team president Chris Antonetti said Francona will be away at least "a couple more days" and it's possible he'll miss the remainder of the team's homestand before the break.
The 58-year-old Francona is scheduled to manage at the All-Star Game next week in Miami, but those plans are on hold.
Bench coach Brad Mills, who is filling in for Francona, said the situation could be affecting Cleveland's players.
"There's no doubt that everyone was kind of thinking about that a little bit," he said. "To be able to put your finger on how much or whatever is really hard. Like I said, it kind of goes back, we got the 14 hits tonight with only the two runs. I would like to think that if he was here, we would have been able to get some of those with runners in scoring position.
"At the same time, there's no doubt everybody's thinking about it."
Indians outfielder Abraham Almonte went 3 for 4 in his first game since being place on the disabled list on May 15 with a strained right biceps.
AMAZING EFFORT
Indians rookie center fielder Bradley Zimmer nearly made an incredible catch, racing into the gap and just missing Jose Pirela's drive before crashing into the padded wall at full speed.
"It would have been the best catch I've ever seen in my life," Padres manager Andy Green said. "He covered more ground than I think I've even seen. He's a phenomenal athlete out there."
Mills, too, was impressed by Zimmer's effort.
"It was unbelievable," he said. "He thought he had it. He hit the wall so hard and I think it hit it in his glove the way it looked. He had it and it fell out. The effort, the distance he had to run to get there in the first place. And then to be able to make the effort to almost catch that thing is pretty special."
TRAINER'S ROOM
Padres: C Austin Hedges was a late scratch with neck stiffness. He tried but couldn't get loose while hitting in the indoor cages.
Indians: Kipnis came in as a pinch-hitter in the sixth and struck out with two runners on.
UP NEXT
Padres: Rookie RHP Dinelson Lamet pitched a career-high seven innings in his previous start against Atlanta. He's limited right-handers to a .114 average.
Indians: RHP Josh Tomlin has been struggling, going 2-8 in his last 10 starts. He's 1-2 with a 7.88 ERA against NL teams this season.