Padres manager explains why retaliation against Anthony Rizzo would have been 'asinine'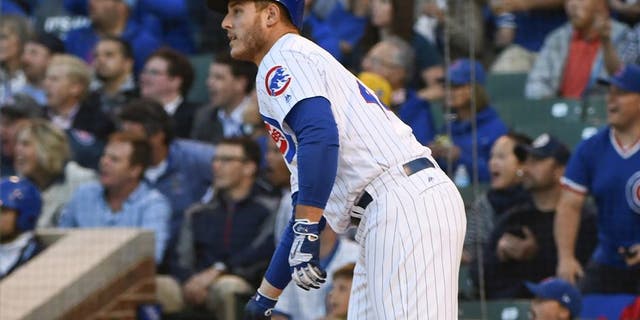 NEWYou can now listen to Fox News articles!
Anthony Rizzo did more damage against the Padres in the Cubs 4-0 win on Tuesday. One night after his home-plate collision which was deemed illegal by Major League Baseball Rizzo homered to lead off the bottom of the first inning.
Some wondered whether the Padres would plunk Rizzo in retaliation for that slide, which forced catcher Austin Hedges to leave Mondays game with a bruised thigh. However, Padres manager Andy Green made it clear that his team wouldnt intentionally hit Rizzo with a pitch even though he thought the slide was a cheap shot.
Speaking with The Mighty 1090 radio in San Diego on Tuesday, Green explained his stance:
What do you accomplish by hitting somebody? Green said. You accomplish nothing. You put a man on first base, and you give them a chance to win a baseball game. You dont, all of a sudden, gain the high, moral ground because you chose to retaliate. You dont, all of a sudden, get to pound your chest because you were man enough to throw a ball at somebodys back. I think its absolutely asinine to even take that approach.
Padres starter Jhoulys Chacin echoed those comments after Tuesdays game:
I had a meeting with Andy, and he asked me to give my word I wont hit (Rizzo) on purpose, Chacin said, per The San Diego Union-Tribune. He asked me to pitch inside to try to get him out, instead of putting him on first base. I was trying to do that, I was trying to make good pitches to him, and he hit a homer. That wasnt the result I was looking for. In the second (at-bat), I got him out pitching inside.
So, cooler heads did prevail.
Meanwhile, Rizzo is getting pretty used to this leadoff thing: In six games atop the order, he is 6-for-6 with three homers.