Padres look to split series with Diamondbacks Thursday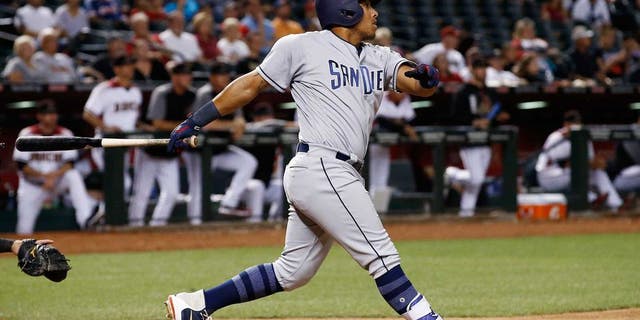 NEWYou can now listen to Fox News articles!
PHOENIX -- The Arizona Diamondbacks are planning to install an offense-tamping humidor at Chase Field later this season, expected to be operational in June.
San Diego Padres third baseman Ryan Schimpf might not approve.
He certainly was not consulted.
Schimpf, who made his major league debut June 14 last year, has five of his 24 career homers at Chase Field.
The latest, a go-ahead, three-run homer in the ninth inning Wednesday, pulled the rug out from under the Diamondbacks and enabled the Padres to break a three-game losing streak in an 8-5 victory.
Schimpf has made 28 plate appearances at Chase, where his on-base-plus-slugging percentage now stands at 1.319. He has 25 total bases in 26 at-bats in his second home, and he has seven homers in 18 games against Arizona at all venues.
"We'll just try to keep working and do what you got to do to win ballgames," said Schimpf, who was 6-for-60 this season before the game-winning homer.
Diamondbacks right-hander Taijuan Walker will oppose Padres right-hander Jered Weaver in the final game of a four-game series that has featured 38 runs and two Arizona victories in the first three games.
Arizona first baseman Paul Goldschmidt also had a special moment Wednesday, at least statistically, when the D-backs (14-9) had their two-game winning streak broken.
Goldschmidt was 3-for-4 with two singles, a double and three RBIs, and he set a franchise record with his fifth consecutive multi-RBI game. Goldschmidt is the third player since 2014 to do that, joining Adam Lind (2015) and Charlie Blackmon, whose streak ended Wednesday. He is 7-for-8 with a homer, two doubles and six RBIs since he was left out of the starting lineup for the first time this season on Monday.
"It's a funny game," Goldschmidt said after the Wednesday game. "Today the hits could have easily been outs, but you'll take them. Sometimes you hit balls that are normally hits and they catch them. Just try to hit it hard and see what happens."
Walker (2-1, 4.57 ERA) did not receive a decision in his last start, a 13-5 victory over the Dodgers on Friday. He gave up four runs and seven hits in 5 2/3 innings, and he struck out six.
Walker is 1-1 with a 1.50 ERA in two career appearances against San Diego, both coming during interleague play in 2015. He spent his first four seasons with Seattle. Walker has cut down his home run rate significantly in the small sample season that is 2017, giving up only two in 21 2/3 innings. He averaged about 1 1/2 homers every nine innings in his last two seasons with the Mariners.
Weaver, a veteran added to the Padres' rotation in the offseason, is 0-1 with a 3.91 ERA in four starts. Three of those outings came on the road, where he has a 4.24 ERA in 17 innings.
Consistency has been his calling card. He has given up two earned runs in six innings in each of his last three starts, although he has not received enough support in any of those quality starts to get a victory.
Weaver, who spent his previous 11 seasons with the Los Angeles Angels, has made two of his 326 career starts against the Diamondbacks. He is 1-1 with a 5.14 ERA in those appearances, one in 2009 and the other in 2015.