Padres fall 3-1 to Royals in 11 innings, can't win 3 straight for 1st time this season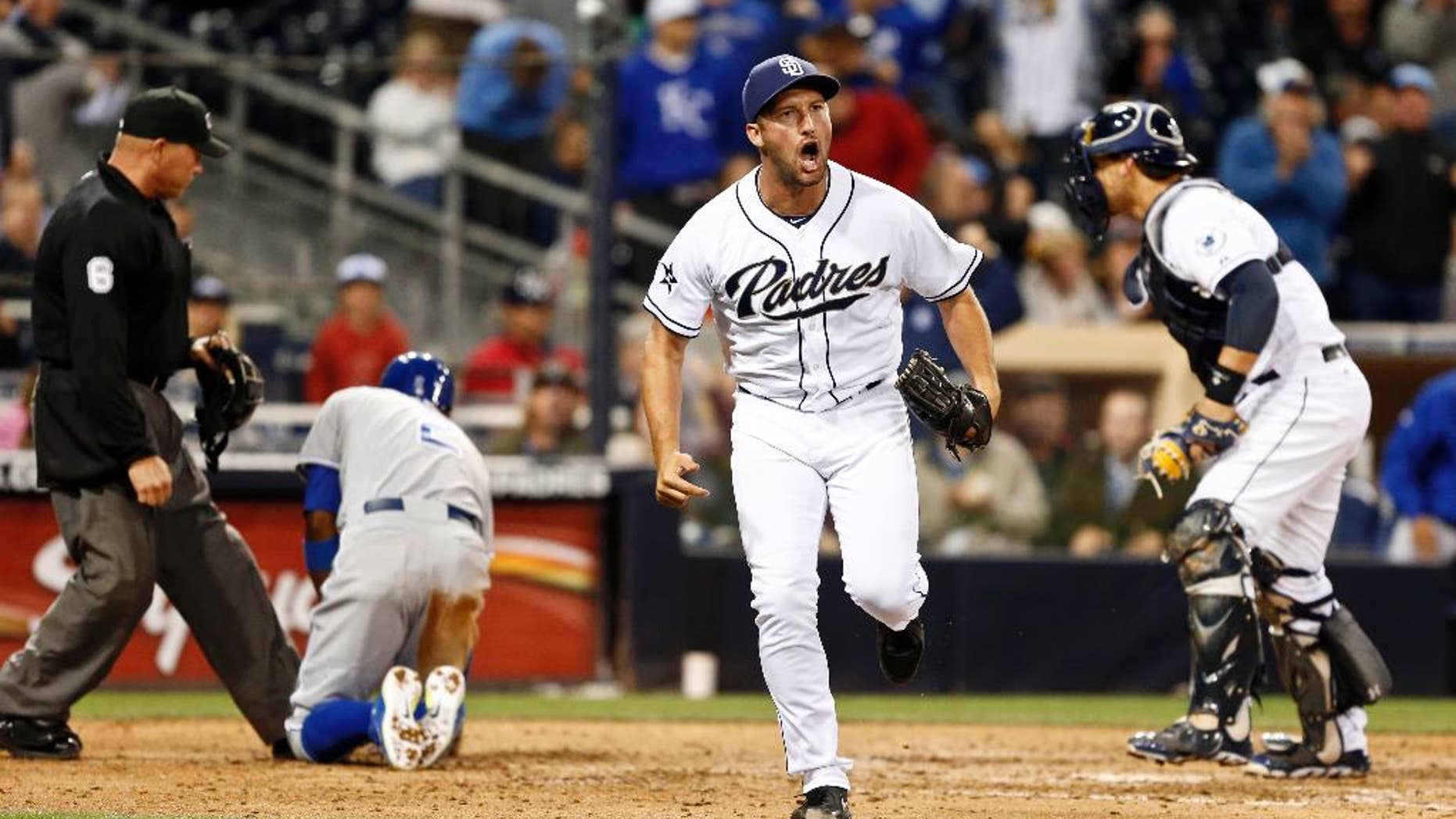 SAN DIEGO – After winning their previous two games in their last at-bat, the San Diego Padres were trying to win three straight games for the first time this season.
It didn't happen.
Alex Gordon singled in the go-ahead run with one out in the 11th inning and pinch-hitter Billy Butler followed with an RBI double for the Kansas City Royals, who beat San Diego 3-1 Tuesday night to snap their season-high five-game losing streak.
Eric Hosmer started the winning rally when he hit a leadoff double to center off Nick Vincent (0-1). Gordon singled to right with one out and Hosmer beat the throw home with a headfirst slide, touching the plate with his left hand.
Butler then doubled in Gordon.
The Padres rallied to beat Arizona 4-3 in the ninth inning on Sunday, and then went 12 innings against Kansas City on Monday night to win 6-5.
"It seems like we've been doing that all year," catcher Yasmani Grandal said. "But it didn't happen tonight."
Wade Davis (2-1) pitched two innings of one-hit ball for the victory, striking out four. Greg Holland, who blew the save Monday night, pitched the 11th for his eighth save in nine chances.
The Padres were denied their first three-game winning streak of the season.
The teams played extra innings for the second straight night. San Diego won 6-5 in 12 innings Monday night.
The Royals had a scoring chance in the ninth against Huston Street. Alcides Escobar singled to center and stole second and third, all with one out. He tried to score on Lorenzo Cain's pop foul down the first-base line but was thrown out by Kyle Blanks to end the inning.
Each starter gave up a home run.
San Diego's Yasmani Grandal homered for the second straight game, a solo shot to right field off Jeremy Guthrie with one out in the fourth for a 1-0 lead. It was his fourth, moving him into the team lead. Grandal hit a tying three-run shot in the sixth inning Monday night.
Salvador Perez tied it with a homer leading off the sixth off San Diego's Robbie Erlin. It was Perez's third.
Erlin got a no-decision after losing his previous four starts. He allowed one run and three hits in seven innings, struck out five and walked four.
"My curve felt good. It felt like my off-speed pitches were what I was on with. I was trying to get a feel for my fastball," Erlin said.
"That was just what we needed him to do with the state of our bullpen," manager Bud Black said.
Black said the Padres will call up a pitcher on Wednesday because the bullpen has been taxed.
Guthrie went a season-high eight innings, allowing one run and four hits, with two strikeouts and one walk.
NOTES: The Royals are 1-7 at Petco Park. .. Vincent gave up three hits in the 11th. He had given up only three hits combined in his last 11 outings. ... Black said 3B Chase Headley could be activated from the 15-day disabled list on Saturday. He's been out with a strained right calf. ... The series concludes Wednesday when Kansas City RHP James Shields (3-3, 3.11) opposes RHP Andrew Cashner (2-4, 2.72).