Padres catcher Austin Hedges' painful experience in the Dominican Winter League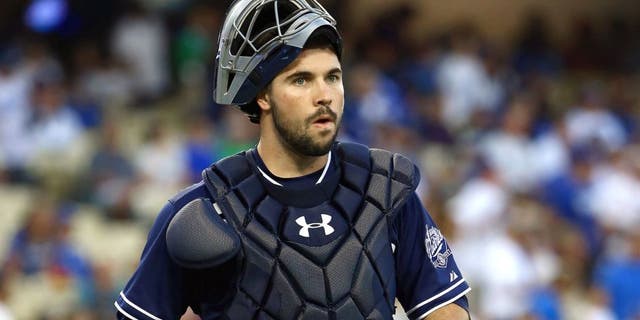 After a limited first major-league season, San Diego Padres back-up catcher Austin Hedges was trying to get in some extra reps during the offseason, which proved a painful experience at the onset.
Hedges, who made his big-league debut in May of last season, headed to the Dominican Republic this winter to play in the Dominican Winter League for Leones del Escogido, alongside fellow major-leaguers such as Pedro Ciriaco and Rafael Soriano.
While the additional playing experience will help him as he aspires to continue to play a role for the Padres with a competitive environment at the catcher position, Hedges was the victim of some unfortunate events down in the D.R.
He revealed to the San Diego Union-Tribune at Padres minicamp at Petco Park on Wednesday that he was attacked by fire ants on the very first day.
"I was stretching in the outfield and looked down and I'm covered in fire ants, on my neck and my shoulder," Hedges told the Union-Tribune. "I had bumps everywhere for, like, two weeks."
Unfortunately for Hedges, being ambushed by fire ants wasn't the extent of his misfortune.
Later in the day, the 23-year-old catcher suffered a bizarre injury while trying to catch a pop-up behind home plate.
"I went to push the net in to catch the ball, and the ball comes down, hits the tip of my finger and gashes underneath my finger," he recounted. "Just uncontrollable bleeding. I ended up having to get taken out of the game."
With the Padres acquiring Christian Bethancourt this offseason, Hedges might fall third in line in San Diego's catcher queue, which is topped by starter Derek Norris, giving him all the more impetus to uphold a diligent work ethic.
Hedges displayed improvement in the Dominican Winter League, hitting .248/.280/.434 with six home runs and 10 RBI in 113 at-bats over 33 games after hitting .168/.215/.248 with three home runs and 11 RBI in 137 at-bats over 56 games with the Padres last season.
Despite the unfortunate events that occurred to him, he's unequivocally glad he played in the winter league.
"The baseball was exactly what I needed," Hedges said. "I needed to get at-bats, I needed to see pitching. Playing on a team, that was the best part of it."