Padres-Brewers in rubber match Sunday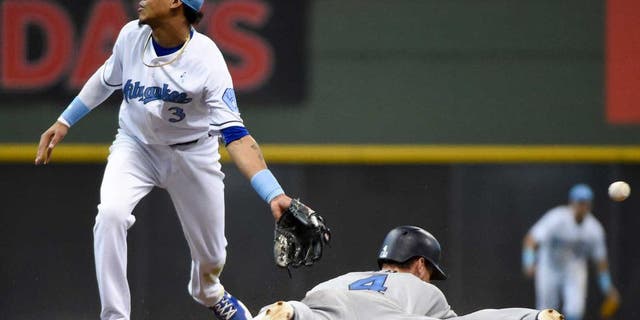 NEWYou can now listen to Fox News articles!
MILWAUKEE -- Thanks in no small part to resurgent starting pitching, the Milwaukee Brewers will still be in first place Sunday when they wrap up a three-game series with the San Diego Padres at Miller Park.
But if they plan to stay on their perch, looking down on the Chicago Cubs and St. Louis Cardinals, they'll need their bullpen to turn things around quickly.
Milwaukee's rotation has combined to go 9-4 with a 2.95 ERA over its last 23 games, striking out 111 while walking just 42. But the relief corps has struggled during that same stretch and leads the National League with 19 losses and 13 blown saves.
With the exception of right-hander Neftali Feliz, who was designated for assignment last week after a season-long struggle with command, few Brewers relievers have struggled more than Carlos Torres, who served up a two-run home run to Yangervis Solarte in the 10th inning Saturday in a 7-5 loss to the Padres.
Torres was a stalwart of Milwaukee's pen a year ago, going 3-3 with a 2.73 ERA in 72 appearances. Things haven't gone so well this year, though; through 36 appearances, he's 3-4 with a 4.95 mark and has had a hard time keeping the ball in the ballpark (seven home runs).
"For him, the stuff isn't different, it's just more of the plate," said Brewers manager Craig Counsell, who suggested that Torres' track record gives him a longer leash. "He's struggling with more balls over the middle of the plate and that's what's costing him. The cutter is his pitch. It's his bread and butter, it's what he's relied on his entire career. He's been finding too much of the plate with it sometimes.
"We've got choices in our bullpen, Carlos is a member of our bullpen and he needs to pitch effective innings for us."
Right-hander Jimmy Nelson will try to keep the rotation on its upswing. He comes into the game looking to tighten up after giving up seven runs on 16 hits over 11 2/3 innings in his last two outings, against the Giants and Cardinals.
He went 2-1 with a 2.28 ERA in five May starts and despite the recent hiccups, is 1-0 with a 3.20 mark in three June outings.
Nelson is 2-3 with a 3.64 ERA in five career starts against the Padres. In a 6-2 victory this season on May 16 at San Diego, Nelson allowed two runs on seven hits and struck out eight in six innings of work.
San Diego counters with Luis Perdomo (1-3, 5.16 ERA) who struck out nine against the Brewers earlier this season in one of his team-leading seven quality starts.
The Padres' offense has been riding a power surge since arriving in Milwaukee, crushing eight home runs in two games and 18 in their last eight overall. Four of those have come from Solarte, who has hit three in Milwaukee after homering in the second and 10th innings Saturday.
Wil Myers has one in each of his last two games as he gets back on track following a May swoon.
"My swing is starting to feel pretty good over the last couple of days," Myers said. "I know I'm close. It's just one of those things that sometimes it lasts longer than you want, but you just keep showing up."
Milwaukee leads the season series with San Diego, 4-2.