Packers vs. Giants countdown: Setting up as a battle of the QBs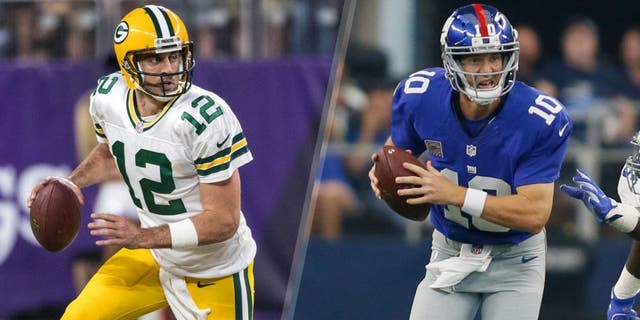 The Green Bay Packers return from their bye week well-rested but not necessarily in full health, with cornerback Sam Shields expecting to miss his third straight game after suffering a concussion in Week 1.
The Packers will be taking on a New York Giants team on Sunday night that is a bit different than the Giants team of years past. Yes, Eli Manning is still at quarterback but Tom Coughlin is gone and ex-Green Bay assistant Ben McAdoo is now the head coach. New York also doled out a lot of money on the free-agent market to try and shore up what was the league's worst defense in 2015.
While Green Bay looks to keep up with Minnesota in what looks to be a two-team battle in the NFC North, the Giants are trying to break a two-game skid after opening the season with two victories. Of course, while the Packers haven't played in two weeks, the Giants look to get back on track after playing last Monday.
Here's a closer look at Sunday night's matchup:
3 THINGS TO WATCH
-- Will anyone be able to run the ball? Green Bay leads the NFL by allowing a miniscule 1.8 yards per carry as well as just 42.7 rushing yards a game. The Giants haven't exactly established the run, with 113, 64, 120 and 78 yards in their four games. New York is third in the NFL in yards per carry allowed, at 3.17, and the Packers have eclipsed 100 yards just once in their first three games. One extra thing to note: The Packers have allowed a rushing touchdown in all three games while the Giants have allowed just one in their first four games.
-- New York will turn the ball over. Can the Packers take advantage? What makes us so sure of such a thing? The Giants have at least one giveaway in 13 consecutive games, which is the second-longest streak in the NFL (Tennessee is first with 21). This season, in just four games, the Giants' turnover margin is minus-8, which ranks 30th in NFL. Quarterback Eli Manning is the main culprit. He has been intercepted in three of New York's four games (four picks overall) and also has fumbled four times.
-- Aaron Rodgers got back on track against Detroit last time out. There's a good chance it continues this week. The Giants' secondary is in tatters. There's a good chance cornerbacks Eli Apple and Dominque Rodgers-Cromartie and safeties Nat Berhe and Darian Thompson all will be out. The Giants allowed 313 yards in the air to Washington two weeks ago and this past Monday night Minnesota's Sam Bradford completed 26 of 36 passes for 262 yards. Oh, and did we mention the Giants have yet to intercept a pass? Yeah, could be a good night for Rodgers.
2 THINGS TO REMEMBER
-- The Packers are 6-1 in their last seven games following a bye week. The bad news: The one loss was last season, a 29-10 defeat to Denver. The good news: Green Bay hasn't lost a home game in October since Oct. 17, 2010 (10 straight wins). This is the third consecutive year playing Green Bay is playing on Sunday night following the bye. Besides the loss at Denver, the Packers won at home 55-14 against Chicago in 2014 and beat Detroit 22-9 in Lambeau in 2013.
-- If things are going bad for the Packers after two downs, don't fret it. The Giants enter Week 5 allowing opponents to convert 45.2 percent of third downs, which is 28th in the NFL.
1 KEY MATCHUP
Packers cornerbacks vs. Giants wide receivers
Here's what we know:
-- Eli Manning, who is three touchdowns away from passing John Elway for seventh place on the NFL's all-time passing TDs list, likes to sling it. He is averaging 38 pass attempts per game this season. Manning averaged a career-high 38.6 pass attempts per game last year, so expect the ball to be in the air a lot.
-- There is a lot of narrative out there on Odell Beckham Jr. and his pouting, or whatever. Will Green Bay get in his head? Well, don't discount that Beckham still isn't a good receiver just because he's gone five straight games without a touchdown and was shut down last week at Minnesota. He still has 22 receptions for 303 yards, both of which rank 18th in the NFL.
-- Also, the Giants are hardly just Beckham. While he has received the most targets from Manning this season (39), the Packers will also have to be aware of Sterling Shepard (20 catches on 29 targets for 263 yards and 2 TD) and Victor Cruz (16 catches on 24 targets for 245 yards and 1 TD).
-- Sam Shields likely won't play again. In the two games he's missed, the Packers have had two receivers have a field day against them. Minnesota's Stefon Diggs torched Green Bay with nine catches for 182 yards and a TD while Detroit's Marvin Jones did his best Calvin Johnson impersonation by tallying 205 yards and two TDs on six catches.
Bottom line: If the Packers' corners play as they have been in the previous couple of weeks, look for Eli and company to take advantage.
Dave Heller is the author of the upcoming book Ken Williams: A Slugger in Ruth's Shadow as well as Facing Ted Williams Players from the Golden Age of Baseball Recall the Greatest Hitter Who Ever Lived and As Good As It Got: The 1944 St. Louis Browns