Packers snap counts: Kentrell Brice goes viral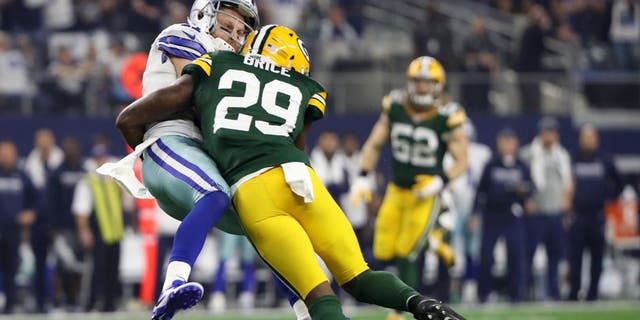 NEWYou can now listen to Fox News articles!
Green Bay Packers rookie defensive back Kentrell Brice has been making waves on the internet lately.
On third-and-4 in Green Bay territory with under two minutes to play in the first half, Dallas Cowboys quarterback Dak Prescott connected with wide receiver Cole Beasley for a first-down catch. Brice chased Beasley down and demolished him at 15-yard line, delivering a hard but clean hit that sent the Cowboys receiver flipping head over heels.
The hit instantly went viral.
Brice was also seen all over the field on Sunday in Green Bay's playoff win at Dallas.
Brice played in a career-high 52 snaps for the Packers, good for 75 percent of their defensive plays. The undrafted rookie's previous career bests were 49 snaps (accounting for 74 percent of the action) in Week 16 against Detroit.
After playing in just 25 percent of Green Bay's regular-season snaps, Brice has been a beneficiary of the next-man-up cliché mentality that the Packers have been forced to utilize in their secondary. Green Bay lost starting safety Morgan Burnett in the first half when he attempted to deflect a pass and collided with teammate LaDarius Gunter, and Brice was inserted as his replacement.
Brice made the most of the opportunity. He led the Packers in total tackles with seven, which of course included his highlight-reel hit on Beasley.
Some other notes from Sunday's snap counts:
-- Burnett, who was replaced by Brice, played in 16 snaps before exiting with an injury. Before the injury, he had played in every Green Bay snap for the past eight games.
-- It appeared that Green Bay's offensive line might have been in danger of losing starting tackle David Bakhtiari when he left with an injury in the second quarter. However, the four-year veteran missed only one series and ended up playing in 96 percent of the snaps.
-- No Jordy, no problem. Wide receivers Randall Cobb and Davante Adams carried a big load with Aaron Rodgers' favorite target, Jordy Nelson, on the sidelines. Cobb and Adams played in 93 and 90 percent of Green Bay's snaps, respectively, and finished with a combined 12 catches for 138 yards.
-- Tight end Jared Cook played in a season-high 51 snaps against Dallas. Cook's 51st snap was the most important -- his sideline grab set up Mason Crosby's game-winning field goal.
-- Ha Ha Clinton-Dix played in 69 of 69 snaps this week, meaning he still has played in every Green Bay defensive snap this season.
Here's the complete offensive and defensive snap counts for Green Bay against Dallas in the NFC Divisional playoff round:
PLAYOFF GAME 2: COWBOYS (OFFENSE)
PLAYOFF GAME 2: COWBOYS (DEFENSE)