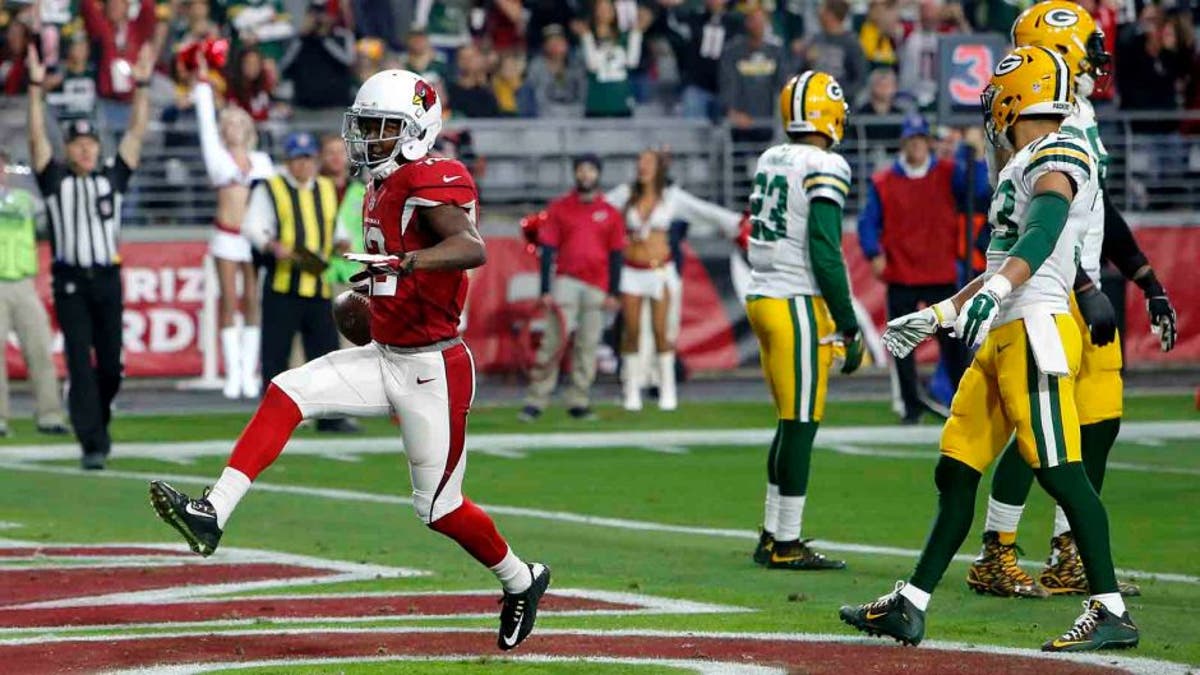 TEMPE, Ariz. -- The Arizona Cardinals will meet a familiar foe in the NFC divisional playoffs on Saturday night.
But they won't expect a one-sided affair over the Green Bay Packers like the previous time they met.
Green Bay won at Washington 35-18 on Sunday to earn a rematch with the Cardinals after losing 38-8 at Arizona on Dec. 27.
The Cardinals sacked Aaron Rodgers eight times, clinching a first-round playoff bye with the win. The Green Bay quarterback fumbled twice and both were returned for Arizona touchdowns.
But the Packers' recent offensive woes vanished and Rodgers looked like his old MVP self in the win over the Redskins. Green Bay outscored Washington 35-7 after falling behind 11-0.
"It's huge for us," Rodgers said. "I talked a lot the last couple of weeks about turning it on, and a lot of you probably thought that was lip service. But we needed a game like this to get our mojo back and get our confidence going."
The Cardinals (13-3) were routed at home by Seattle 36-6 in their regular-season finale, a performance the team and coach Bruce Arians wrote off as an aberration in a game that meant nothing in terms of playoff positioning.
The Cardinals enter this week's practices with a game plan for Green Bay virtually completed.
Arians said last week that the staff had a plan ready for any of the three potential opponents. The Cardinals devoted each of last week's practice sessions to each of those possible foes -- Green Bay on Tuesday, Minnesota on Wednesday and Washington on Thursday.
The Arizona players had the next four days off and won't resume practice until Tuesday.
The Cardinals opened as seven-point favorites over the Packers (11-6).
Arizona would have faced Minnesota had the Vikings made that last short field goal and beat Seattle in Sunday's wild-card game.
This is the Cardinals' first playoff bye in their history, which doesn't include many postseason appearances.
But Arizona did meet Green Bay in the playoffs once, and that 2010 matchup at University of Phoenix Stadium was a memorable one.
The Cardinals won 51-45 in overtime, the highest-scoring playoff game in NFL history.
Kurt Warner had more touchdown passes (five) than incompletions (four), completing 29 of 33 for 379 yards with no interceptions.
Rodgers, in his first playoff game, was almost as good, completing 28 of 42 for 422 yards and four scores with one interception.
The game didn't have much defense, but the winning score was a defensive play.
Defensive back Michael Adams sacked Rodgers and jarred the ball loose. Karlos Dansby grabbed it in mid-air and ran 17 yards for the winning score.
That game seems like ancient history for Rodgers, who has had so much postseason success since then.
But he and his teammates probably most remember that drubbing three weeks ago, and they are intent on a better rematch.
"There aren't too many times you have an opportunity to go back and have a re-do," Packers coach Mike McCarthy said. "We're looking forward to having a redo."