Packers haven't seen playoff combo like Lacy-Starks since Super Bowl I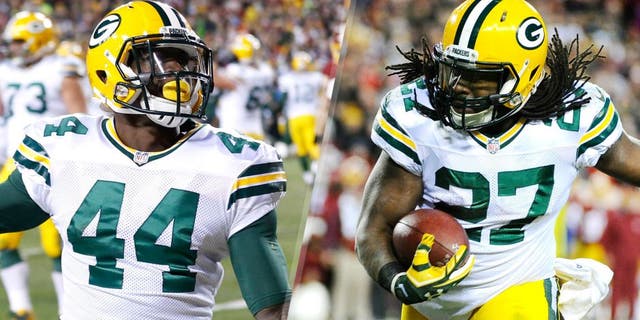 The Green Bay Packers slugged out 141 rushing yards in a 35-18 win over the Washington Redskins in the NFC Wild Card round on Sunday. Starting running back Eddie Lacy led the charge with 63 yards and a touchdown; backup James Starks was right behind him with 53 yards and a touchdown.
Lacy and Starks became the first Packers duo to each rush for at least 45 yards and a touchdown in a playoff game since Jim Taylor and Elijah Pitts did it in Super Bowl I.
Washington bottled up Green Bay's running game in the first half, but Lacy and Starks couldn't be stopped in the second half. Lacy's longest run of the game -- a cutback that resulted in a 30-yard gain -- set up Starks' four-yard touchdown on the very next play. The bruising back gave the Packers a two-score lead in the fourth quarter with a two-yard touchdown plunge.
Lacy and Starks were big contributors in the playoff win, but wide receiver Randall Cobb and fullback John Kuhn also recorded some carries to help keep the ground game alive. Cobb rushed five times for 24 yards, while Kuhn carried twice for two yards.