Packers' final 53-man roster prediction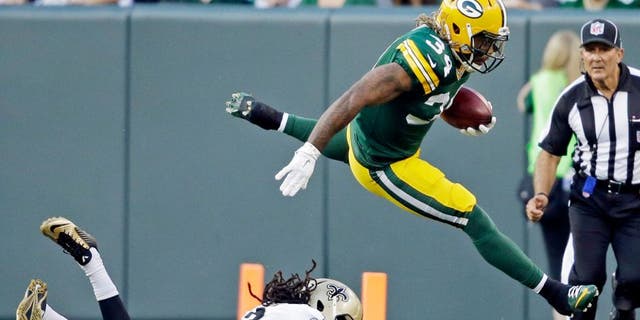 The Green Bay Packers have concluded their preseason and now have until 3 p.m. CT on Saturday to cut their roster down to 53 players.
Some positions are fairly easy to forecast, but others are unpredictable.
Here is FOX Sports Wisconsin's best guess for what the Packers' 53-man roster will look like:
Quarterbacks: (3)
In: Aaron Rodgers, Scott Tolzien, Brett Hundley
Out: None
Analysis: Rodgers is the reigning league MVP and, after leading all quarterbacks in exhibition touchdowns and passer rating, fifth-round rookie Hundley was perhaps the preseason MVP. In between, Tolzien has been poised and productive when he's played. Green Bay's signal-callers are set.
Running backs: (5)
In: Eddie Lacy, James Starks, Rajion Neal, John Kuhn, Aaron Ripkowski
Out: John Crockett, Alonzo Harris
Analysis: Lacy and Starks form one of the better 1-2 rushing attacks in the league, and Kuhn, a locker-room leader coming off his third Pro Bowl season, is probably still too valuable -- tangibly and intangibly -- to cut. Neal, in his second season in Green Bay after spending the second half of last year on the practice squad, gets the nod over Crockett, who played well in Thursday's preseason finale, and Harris, who's shown burst but been inconsistent. Neal is the best receiver and has been dependable. Ripkowski can contribute on special teams and may have been too impressive to be sneaked onto the practice squad. The sixth-round rookie proved fullbacks still have worth with a crucial block Thursday on Crockett's 15-yard touchdown run.
Wide receivers: (5)
In: Randall Cobb, Davante Adams, Ty Montgomery, Jeff Janis, Myles White
Out: Jared Abbrederis, Larry Pinkard, Ed Williams
Analysis: Hold on, Badger fans. The first three wideouts were always locks, and Janis -- who's made a summer home in the Lambeau Field end-zone bleachers over the past two years with five touchdowns in eight exhibition games -- has earned a spot, even if he may not yet have earned Rodgers' trust. White was the Packers' leading preseason receiver, scored twice on Thursday and knows the offensive system well in his third year, which is an immeasurable asset in the minds of Green Bay decision-makers. And speaking of decision-makers, one thing we know for certain is GM Ted Thompson is not one for idealistic nostalgia, state-hero storylines or unsupported potential. Abbrederis, a fifth-round pick in 2014 out of Wisconsin, missed all of last season with a knee injury and almost all of the preseason with a concussion. In his only game action on Thursday, he caught one pass for six yards and returned three punts for 35. That's probably not enough for the 53-man roster, but perhaps his almost complete lack of NFL tape will allow the Packers to get him onto their practice squad. Pinkard, who caught his only pass for a 77-yard touchdown against the Saints, is another practice-squad candidate, while Williams is a straightforward cut.
Tight ends: (3)
In: Richard Rodgers, Andrew Quarless, Kennard Backman
Out: Justin Perillo, Mitchell Henry
Analysis: This is a tough spot because of the Packers' recent historical tendencies at the position and because the players didn't make decisions easy. Rodgers is an ascending talent, and Quarless is dependable as both a blocker and receiver. Backman, a sixth-round rookie, gets the nod because the Packers rarely cut draft picks in their first year. While he hasn't done anything to buck that trend -- he caught the only ball thrown to him Thursday for a 20-yard gain -- he also hasn't done much to separate himself from Perillo and Henry, who are steady but unremarkable.
Offensive linemen: (9)
In: David Bakhtiari, Josh Sitton, Corey Linsley, T.J. Lang, Bryan Bulaga, JC Tretter, Don Barclay, Lane Taylor, Josh Walker
Out: Jeremy Vujnovich, Garth Gerhart, Andy Phillips, Matt Rotheram
Analysis: It would be unusual for the Packers to keep nine offensive linemen, and perhaps with Nelson out and the tight ends lacking a proven star they will decide to give an extra spot to a pass-catcher. But Green Bay's offensive line spent much of the preseason nursing various lingering injuries, and even if none of the problems are serious, it would be foolish to expect the starters to be 100-percent healthy the entire season for a second straight year. Tretter is the best backup. If the other reserves lack in quality -- Barclay, coming off an ACL injury, was horrible early in the preseason but got better later on, Walker's trajectory was the opposite and Taylor is limited since he only plays guard -- the Packers may opt for quantity. Rotheram was intriguing early and could possibly find himself on the practice squad.
Defensive linemen: (5)
In: Mike Daniels, B.J. Raji, Mike Pennel, Josh Boyd, Bruce Gaston
Out: Khyri Thornton, Christian Ringo
Analysis: The Packers don't yet have to count suspended Datone Jones (one game) or Letroy Guion (three games) for the roster, so we won't, either. There's a good chance that, even when both of those players come back, the Packers keep Gaston, a pass-rushing nose tackle who turned heads in the preseason with four quarterback hits and a sack. Thornton, a 2014 third-rounder, has done nothing during his time in Green Bay, while Ringo, a sixth-round rookie, is probably headed for the practice squad.
Linebackers: (10)
In: Clay Matthews, Sam Barrington, Julius Peppers, Mike Neal, Nick Perry, Nate Palmer, Andy Mulumba, Jayrone Elliott, Jake Ryan, Carl Bradford
Out: Jermauria Rasco, James Vaughters, Joe Thomas
Analysis: The Packers commonly keep 10 linebackers, and it's a deep group this season. Bradford, was a disappointment last year, has become a key special-teams player, which likely earns him the last spot. He had 11 tackles and a sack in the preseason. Thomas (eight tackles, one sack), Rasco (seven, one) and Vaughters (seven and zero) have potential and one of them will surely be on the practice squad.
Defensive backs: (10)
In: Sam Shields, Casey Hayward, Morgan Burnett, Ha Ha Clinton-Dix, Micah Hyde, Damarious Randall, Quinten Rollins, LaDarius Gunter, Sean Richardson, Chris Banjo
Out: Demetri Goodson, Tay Glover-Wright, Ryan White, Jean Fanor
Analysis: Besides first-rounder Randall and second-rounder Rollins, another rookie cornerback makes the team after having arguably the best preseason of any player on the roster: Gunter, the undrafted free agent. Richardson is a core special teamer with great size who has flashed some ability to contribute as a safety. Banjo, a safety, and Goodson, a cornerback, are both on all four No. 1 special-teams units, but their preseasons ended on drastically different notes. Banjo had five tackles, two passes defensed and a diving interception, while Goodson didn't play due to a knee injury. Unfortunately for Goodson, Gunter was a better cornerback and Banjo a more valuable special teamer. White and Wright each had just one preseason tackle, but Fanor (seven tackles against the Saints, including one for loss) might be worth a further look on the practice squad.
Specialists: (3)
In: Mason Crosby, Tim Masthay, Brett Goode
Out: None
Analysis: Remember when Crosby struggled in 2013 and there was talk of replacing him? The Packers didn't then, and he's now back to being one of the best kickers in the business. The team will probably have the same mindset with Masthay, who was much better in the preseason finale.
Follow James Carlton on Twitter