Packers center Corey Linsley comes full circle after injury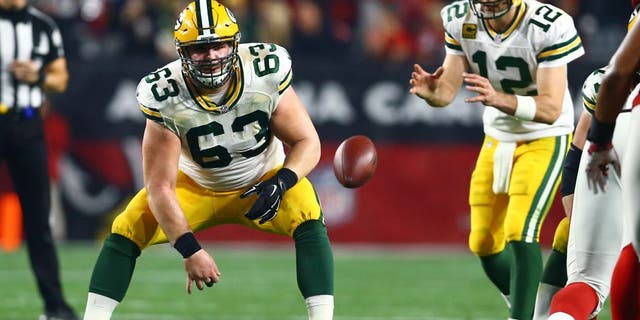 GREEN BAY, Wis. -- The Packers' offense has changed a little from the last time center Corey Linsley snapped a football to Aaron Rodgers.
More passing. Less running.
It is in large part by necessity as the Packers adjust their plans following the spate of injuries that have sapped depth at the running back position.
"It looks different and we operate a little bit different. But it's the same stuff that we've been going through," Linsley said Wednesday. "Although ... for us, as O-linemen, it's adjusting to passing as much."
Linsley, the starting center the previous two years, hasn't played this season because of a hamstring injury. But he could be activated from the reserve/physically unable to perform list for Sunday's game against the Indianapolis Colts because of a knee injury to Linsley's replacement, JC Tretter.
"Yeah, if that happens, obviously we're going to have to get resituated there. I'm not worried about Corey, though. Corey has been a center his entire life," Rodgers said.
Still, it will be yet another personnel change to which the Packers will have to adjust because of their lengthy injury report.
At running back, Eddie Lacy (ankle) is on injured reserve. James Starks is coming back from a knee injury, but did not practice on Wednesday.
Receivers Randall Cobb (hamstring) and Ty Montgomery (illness) were both limited after missing last week's loss to Atlanta . Cobb and Montgomery can also take snaps in the backfield, a role that Montgomery especially had excelled in this season .
Green Bay also has running back Don Jackson, elevated from the practice squad a few weeks ago; and fullback Aaron Ripkowski, who had an impressive 34 yards on six carries against the Falcons.
At Atlanta, Rodgers was the leading rusher with 60 yards on six carries.
"I'm deceptively fast. That's what I like about it," Rodgers joked.
But he's usually not making keeper calls. If Rodgers is on the move, it is usually because he's trying to extend plays.
"It's been a good weapon for us on third down (at) times. But again, it's a secondary thing. Extending plays ... where I'm hitting guys on late-timing stuff and second-reaction stuff. Those are tough for the defense to stop," Rodgers said.
Against Atlanta, the Packers used spread looks at times by necessity. Rodgers was 28 of 38 for 246 yards and four touchdowns in one of his best outings of the year .
In the 26-10 win over Chicago the previous week, Rodgers was 39 of 56, setting a franchise mark for completions in a game. He threw for 326 yards and three scores.
The offensive line, for the most part, has played well. But it looks the Packers may have to prepare for a change there, too, because of an injury.
Linsley has come full-circle after taking over as the center as a rookie in 2014 after Tretter went down with a knee injury. When Linsley got hurt this preseason, Tretter was ready to step in.
Now, it looks like Linsley will be snapping the ball again. The Packers have an open spot on their active roster following the release of running back Knile Davis earlier this week.
On Wednesday, Rodgers ran Linsley through the cadences and adjustments that have been made on offense.
"Everything that he can possibly throw at me, he threw at me," Linsley said. "I'm thankful for that."
INJURY REPORT
The cornerback carousel continued on defense. Quinten Rollins returned to practice for the first time since missing three games with a groin injury. He was limited. But Demetri Goodson missed practice with a concussion. Starting cornerback Damarious Randall remains out with a groin injury. ... LB Clay Matthews (hamstring) was limited after missing the Falcons game.
TRANSACTION
RB Brandon Burks was signed to the practice squad. The 5-foot-9 rookie initially signed with the Packers as an undrafted free agent from Troy in May before being released after training camp.