Packers Beat Bears 35-21, Clinch No. 1 Seed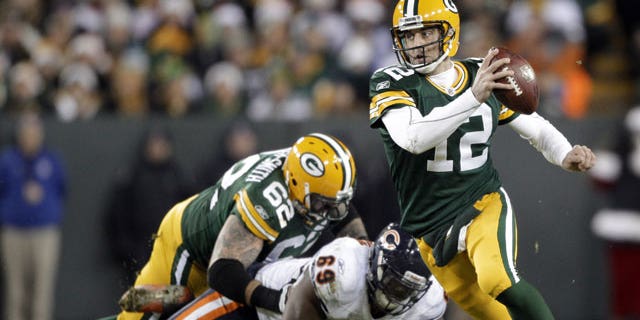 GREEN BAY, Wis. – Aaron Rodgers had the first five-touchdown game of his career, and the Green Bay Packers clinched the No. 1 seed in the NFC playoffs with a 35-21 victory over the rival Chicago Bears on Sunday night.
Rodgers threw a pair of touchdowns to Jordy Nelson, another two to James Jones, and found Jermichael Finley for a score for the Packers (14-1), who secured home-field advantage in the NFC.
The loss eliminated the Bears (7-8) from playoff contention and put the Atlanta Falcons in the playoffs as at least a wild card.
Third-string running back Kahlil Bell rushed for 121 yards for the Bears, who trailed by four early in the third quarter. But Rodgers drove the Packers for three quick scores to put the game out of reach.
Packers backup Matt Flynn took over for Rodgers with 7:54 left in the game.