Pacers will try to close 2015 with a win over Bucks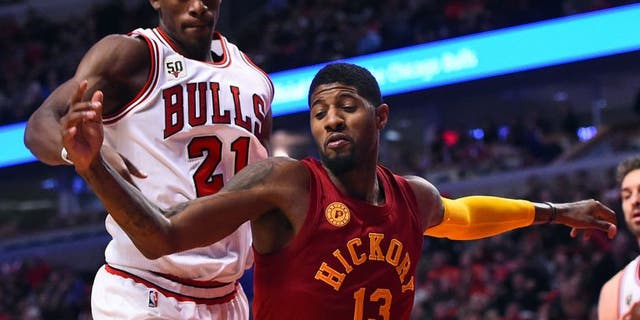 NEWYou can now listen to Fox News articles!
An inability to defend the 3 has been one of the biggest reasons for the Milwaukee Bucks' struggles on the road.
That's not a good sign for facing one of the league's top 3-point shooting teams in the Indiana Pacers, who have already bombarded the Bucks from deep once this season.
The Pacers, however, have the disadvantage of playing on a second straight night Thursday when they face a Milwaukee team trying to avoid losing for the 15th time in 16 road games.
The Bucks (12-21) are allowing opponents to shoot a league-worst 40.1 percent from 3-point range on the road and surrendering an average of 10.0 made 3-pointers during a 1-14 stretch outside Milwaukee.
Indiana (18-13) made 15 of 30 3-pointers in a 123-86 home win over the Bucks on Nov. 21, their most lopsided victory of the season. The Pacers had six players score at least 12 while Milwaukee's leading scorer was Greg Monroe with 11.
Indiana has won 11 of 13 at home and shoots 36.7 percent from 3-point range, but Milwaukee may be catching a break with the Pacers finishing up a back-to-back after Wednesday's tough 102-100 overtime loss in Chicago.
After storming back from 14 down, Indiana looked like it was going to win as it took a seven-point lead with just over 2 1/2 minutes to go, but the Bulls closed regulation on an 11-4 run. Chicago answered Monta Ellis' game-tying 3-pointer with 3.7 seconds left with Jimmy Butler's alley oop with 1.2 to go, and Butler then defended Paul George's tip-in attempt as time expired.
Coach Frank Vogel was irate there was no foul called on Butler on the game's final play, but that wasn't the only reason the Pacers lost.
"We were up seven and pretty much in control before we got to OT," George said. "We let this one get away."
George had another poor shooting night, going 7 of 20 -- the eighth time in 10 games he shot less than 40 percent -- and matched a season high playing 42 minutes. The quick turnaround seems problematic for George, who is shooting 29.1 percent -- including 4 of 25 from 3-point range -- in the second half of Indiana's last three back-to-backs with the Pacers being outscored by an average of 15.3 points in losing each.
Ellis is averaging 7.0 points on 37.5 percent shooting in the second half of Indianapolis' last four back-to-backs, and C.J. Miles has totaled seven points on 3-of-16 shooting in the last two.
Miles, second on the team in scoring at 14.6 points per game, was scratched about an hour before Wednesday's tipoff due to a sore lower back. He had a team-high 21 points against the Bucks last month as the Pacers won for the eighth time in nine meetings in Indianapolis.
Khris Middleton had a career-high 36 points and made 6 of 9 3-pointers Tuesday in Milwaukee's 131-123 loss at Oklahoma City.
"We're not going to be able to win with just one man doing everything, though," said Middleton, who also had seven assists. "We need to play as a team and figure it out."
Over the last five games, Middleton is shooting 57.1 percent while averaging 23.6 points -- 7.8 better than his season average. He had eight points on 3-of-11 shooting against Indiana last month.
Giannis Antetokounmpo also had a huge game Tuesday, finishing with 27 points and 10 rebounds after totaling 15 points and 11 boards in his previous two contests. He scored nine in the first meeting with Indiana.
The Bucks have lost three straight -- their fifth three-game losing streak of the season -- and six of eight. They haven't lost four in a row since March.