Pacers close preseason slate with 98-86 win over Charlotte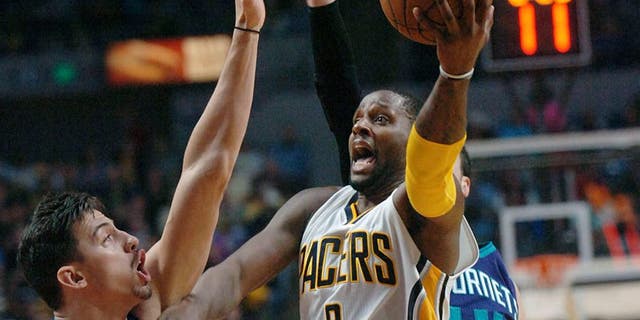 NEWYou can now listen to Fox News articles!
FORT WAYNE, Ind. -- C.J. Miles had 20 points and Paul George added 12 as the Indiana Pacers beat the Charlotte Hornets 98-86 on Thursday night.
Frank Kaminsky had 19 points and six rebounds for Charlotte, which finished the preseason 7-1.
PACERS: George played 14 of his 23 minutes in the first half. ... Monta Ellis (upper respiratory infection) and Jordan Hill (sore lower back) were out. ... Chase Budinger had 17 points.
HORNETS: Al Jefferson, Jeremy Lin, Nicolas Batum, Spencer Hawes and Marvin Williams were held out for rest. ... Kemba Walker (12 points) returned after missing Wednesday's game at Detroit with a left heel contusion. ... Jeremy Lamb (right ankle sprain) did not play. ... Indiana native Cody Zeller had 11 points and nine rebounds in the game played in Fort Wayne. He made his only 3-point attempt to end the preseason 4 of 6 from long range.
Up next: Charlotte opens the regular season Wednesday at Miami. Indiana, which finished 5-2 in the preseason, opens Wednesday in Toronto.