Pac-12 North Notebook: The Oregon program is alive and well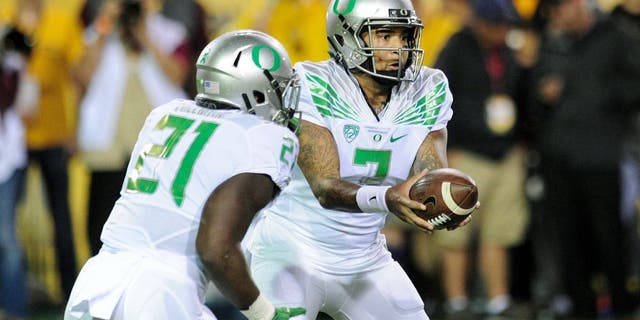 NEWYou can now listen to Fox News articles!
Oregon's second half resurrgence has been led by a healthy Vernon Adams Jr. Matt Kartozian USA Today
After Oregon's 62-20 loss to Utah in September, some pundits believed that the loss was the beginning of the end for Oregon. After falling to 3-3 following a 45-38 loss to Washington State in Eugene, it looked like the Ducks downfall may be real.
However, Oregon has responded over its past four games, including its 38-36 win over No. 7 Stanford on Saturday in the Bay Area.
Oregon's resurgence has everything to do with the play of its quarterback Vernon Adams Jr. Oregon's four-game winning streak has coincided with his return to action. After breaking his right index finger in the season-opener, Adams struggled to get back to full strength.
After sitting out against Colorado and Washington State, Adams returned and the Ducks have come away with four consecutive wins, including three wins that have been decided by less than a touchdown.
Over this stretch, Adams has completed 64-of-106 passes for 1,095 yards and 12 touchdowns. Oregon's offense has averaged 42.25 points per and has gained an average of 538.5 yards per game.
There's no doubt that Oregon is having a down year. The Ducks' defense has been abysmal and is ranked No. 118 in total defense. The offense has sputtered at times and the inability to win close games early in the season against Michigan State and Washington State cost the Ducks a real shot at national relevancy.
Maybe Oregon's season would have been like this regardless of whether or not Adams had stayed healthy all season. However, it's worth noting that Oregon's record with a completely healthy Vernon Adams Jr. is 5-0. Its record without its starting QB healthy in 2015? 2-3.
In other words, maybe it's just tough to win games in college against top competition without a healthy quarterback.
''We're definitely a different team than at the beginning of the season,'' said Adams of the Ducks' resurgence, per the Associated Press. ''We're playing a lot faster and I'm a lot more confident in the offense.''
Oregon faces another stiff test this weekend in Eugene against USC. The Trojans are a bit banged up and are not as deep as some of the other top programs in the nation. However, their offense is still has a potent as ever and the defense has enough size and speed to give Oregon fits.
The Trojans and Ducks are both fighting for division titles, though Oregon's road is more difficult than USC's. Should the Trojans win out, they'll be in the Pac-12 title game. Oregon would need to win out and have Stanford lose to Cal in order to defend its Pac-12 conference crown.
MORE NEWS: Want stories delivered to you? Sign up for our College Football newsletters.
Regardless of whether this game has Pac-12 championship ramifications for either team, the Trojans and Ducks are two of the three hottest teams in the conference.
Big game provides big opportunity for Cal
The Bears haven't beaten the Cardinal since 2009, meaning nearly no one on the Cal staff has experience the feeling of winning The Big Game.
The Bears have had a strong season, despite a lackluster late October slide, which has pushed the team's record to 6-4. Cal got back on track last week against Oregon State with a 54-24 win that made the Bears bowl eligible for the first time since 2011.
Cal has a real chance at beating Stanford, due to the turnovers it forced defensively and because of its quarterback Jared Goff. The Cardinal should be reeling from last week's loss to Oregon and may be focused on next week's matchup against Notre Dame. Can a rivalry game also be a trap game?
Falk, McCaffrey in duel for offensive player of the year
Despite both teams being out of the College Football Playoff picture, both Stanford RB Christian McCaffrey and Washington State QB Luke Falk should be in the Heisman Trophy conversation.
Falk is having an outstanding year for the surprising Cougars and leads the FBS in passing yards and is second in touchdowns and completion percentage. Meanwhile, McCaffrey continues to blow past defenses and is still on pace to break Barry Sanders' all-time single-season record for all-purpose yards (3,250).
In terms of the race for the Pac-12 offensive player of the year, McCaffrey and Falk are the top two candidates, along with Cal QB Jared Goff and Oregon RB Royce Freeman.
Quick Hits: Christian McCaffrey has eight straight 100-yard rushing performances … The winner of the Oregon-Stanford game has gone on to win the Pac-12 title for five straight years. That could end on Saturday if Stanford beats California … Cal and head coach Sonny Dykes are working on a contract extension, according to reports … Jared Goff was named Pac-12 offensive player of the week for his six touchdown performance against the Beavers.