P.K. Subban accidentally tips puck into own net, Predators lose to Ducks in OT of Game 4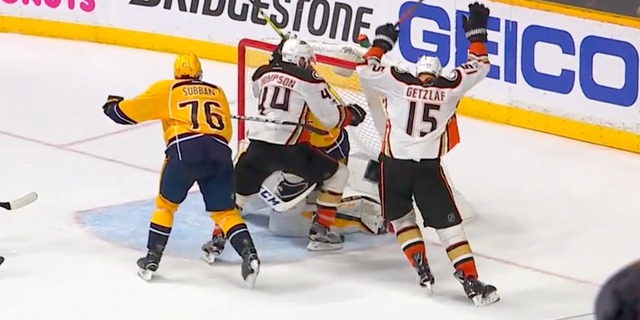 Game 4 of the Western Conference Final in Nashville was an entertaining one that required overtime. Unfortunately for the home crowd, it didn't end with the result that they wanted.
The Preds managed to fight back from 2-0 deficit in the third period. P.K. Subban got them on the board first with a great shot from the point, then Filip Forsberg tied the game with a gritty goal in the final minute of regulation.
The momentum was all Nashville's heading into overtime and a win would have given the Predators a massive 3-1 series.
However, Anaheim managed to regroup and secure the win in OT, thanks to a little help from Subban. The Nashville defenseman accidentally tipped a Corey Perry shotinto his own net to end the contest.
You know that old saying "good things happen when you put pucks on net?" This is a pretty great example of that.
Now the series is tied at two games apiece as home ice shifts back to Anaheim for Game 5 on Saturday.