Ozzie Guillen Suspended by MLB Over Wayward Tweets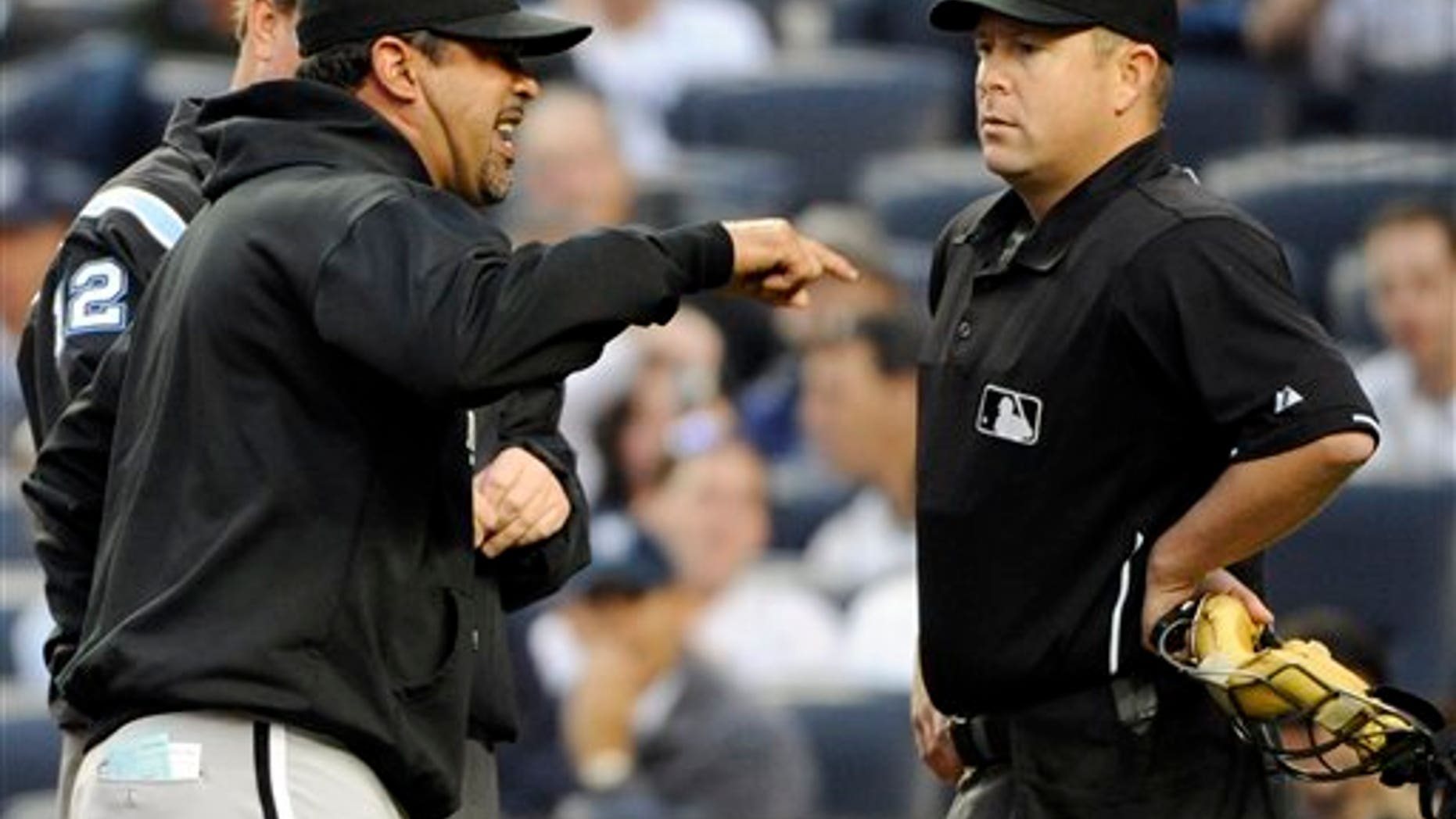 Tweet, tweet, suspension?
That's what Ozzie Guillén received after violating Major League Baseball rules by using Twitter to make derogatory comments about an umpire who tossed him from a game.
Guillen was suspended two games and fined an undisclosed amount for his tweets.
"[The tweets] were in violation of Major League Baseball's social media policy and other regulations regarding the use of electronic equipment during the course of a game," according to a statement by the league.
Guillen is scheduled to serve his suspension during Chicago's games tonight and tomorrow night against the Baltimore Orioles at U.S. Cellular Field.
This is the first time baseball has penalized a player, coach or manager for their use of the social networking site during a game.
Guillén was tossed Wednesday night for arguing balls and strikes with plate umpire Todd Tichenor in the first inning of Chicago's game against the New York Yankees. He then went on Twitter to say the ejection was pathetic and it would cost him a pricey fine.
He also said that a "tough guy" showed up at Yankee Stadium.
It was Guillén's 26th career ejection and his first this season. He said Thursday he expects to hear from the commissioner's office at some point.
"I expect them to call me or send me a letter. I expect them to send me a sizable fine," Guillén said before the punishment was announced. "Like I say, I've been through this for eight years. I expect them to say how much is the money and we'll pay the money."
Baseball has a social media policy covering employees that applies to managers and coaches and prevents them from disparaging umpires.
There also are guidelines that basically prohibit players, managers and coaches from communicating by electronic equipment from 30 minutes before a game until it ends.
But baseball has not had to deal with the rise of Twitter and other social networking sites in the same manner as the NFL and NBA, which have strict rules of conduct for expressing opinions in this rapid-fire format.
The NFL has fined Chad Ochocinco $25,000 for using Twitter shortly before and during a preseason game. The NBA fined Phoenix Suns forward Amar'e Stoudemire and Charlotte Bobcats forward Tyson Chandler $7,500 each for in-game tweets.
England's Premier League Soccer has dealt harshly with players who used Twitter inappropriately. And golfer Ian Poulter, a popular tweeter, apologized for using an anti-Semitic slur after watching a soccer game.
The Associated Press contributed to this story.
Follow us on twitter.com/foxnewslatino
Like us at facebook.com/foxnewslatino