Ovi's physical play lifted Capitals' game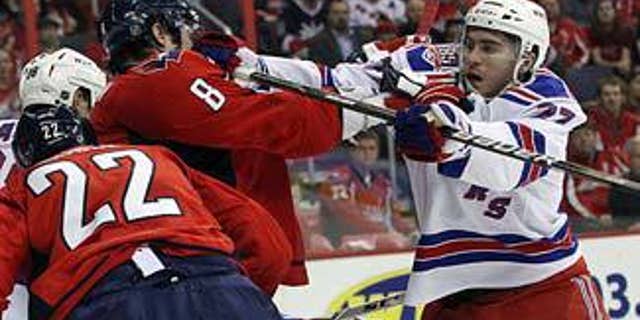 NEWYou can now listen to Fox News articles!
ARLINGTON, Va. -- One of the memorable moments from HBO's "24/7" series about the Washington Capitals and Pittsburgh Penguins was when Alex Ovechkin fought New York Rangers forward Brandon Dubinsky at Madison Square Garden.
HBO's microphones picked up Ovechkin and Dubinsky congratulating each other on a good fight and then the Washington captain screaming at his teammates on the bench in attempt to fire them up. It ended up not working -- the Capitals, already down big at that point, lost in a 7-0 rout.
Ovechkin went after Dubinsky again Wednesday night at Verizon Center in Game 1 of their Eastern Conference quarterfinal series, this time drilling him with a highlight-reel hit in the corner early in the first period. This time it did ignite his teammates and was a harbinger of more physical play to come from both the captain and the rest of the Capitals.
"It is always important to have physical game right away, especially the beginning of the game," Ovechkin said. "You set the tone and guys see what you did or different guys make a hit and I see it and I just want to do the same."
Added Jeff Schultz: "It is great. It shows everybody that we're ready and it gets the crowd into the game. We get a lot of energy from the crowd and from the bench and that's the way we expect [Ovechkin] to play. He's a physical player and I think you can expect more of that this series."
The first few minutes of the contest were relatively slow -- few scoring chances and little going on beyond the two teams dumping the puck into each other's end. Washington had a couple of quality looks on the game's first power play and started to build some momentum.
When Ovechkin launched Dubinsky into the boards, the Verizon Center crowd let out a huge roar. Ovechkin's teammates responded with five more hits in the next 75 seconds and then Rangers forward Mats Zuccarello took a boarding penalty.
At that point momentum was clearly in Washington's favor and the Capitals continued to carry the play for much of the rest of the contest.
"He does that quite often -- he goes out and gets that first big hit and creates that energy for us. He makes you want to follow him," Jason Chimera said. "Everyone just starts talking. It is, 'Oh, yeah -- great hit, great hit.' Then everyone gets going. It is kind of infectious when you get that kind of play. In the shifts after that I think we had some good shifts with some good hitting, too. It was good momentum for us."
Added John Erskine: "Oh yeah, [Ovechkin] is our leader and we know he likes to throw his body around. Whenever he does it right away like that, it definitely gets the guys going. It gets the guys' emotions going. When you get the big bumps early like that, it gets the fans going, too."
Ovechkin finished the game with six hits, the most of any player. He had another big one later in the game on Rangers defenseman Marc Staal. The Capitals had 35 hits as a team, and continued physical punishment inflicted on New York's top four defensemen -- Staal, Dan Girardi, Ryan McDonagh and Michael Sauer -- could prove beneficial if Rangers coach John Tortorella continues to deploy them as much as he did in Game 1.
While Ovechkin and Dubinsky may have offered up a quick, "Good job," when they fought in the regular season, it is safe to assume the Rangers forward didn't offer the same type of congratulations after being catapulted by Ovechkin's big hit.
Even if Ovechkin decided to be playful with his answer the morning after. When asked if Dubinsky said anything, he responded, "No, he just said, 'Let's go out and drink some beers afterwards.' "