Ovince Saint Preux is a 'big problem' for every UFC light heavyweight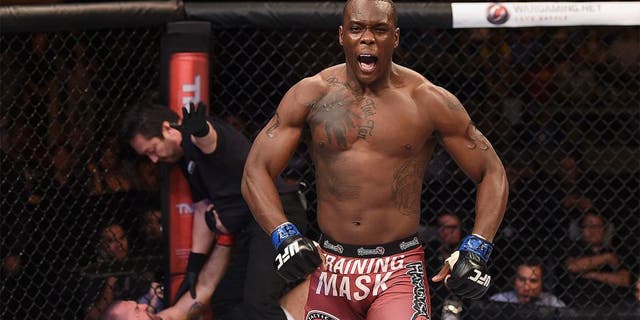 The light heavyweight division has a lot of familiar names in the top five rankings because most of the fighters in the upper echelon have danced around those same spots for years.
Occasionally a new name will pop up like Anthony Johnson bursting on the scene a year ago and rocketing to the top of the division, but most of the fighters hovering from No. 1 to No. 5 don't like to give up those positions to anybody else.
That's where Ovince Saint Preux comes into the picture.
The 32-year-old Tennessee native sits at No. 6 in the world, currently, after consecutive dramatic stoppage victories over former light heavyweight champion Mauricio "Shogun" Rua and Patrick Cummins. This weekend, Saint Preux will have the chance to crack the top five when he faces former title contender Glover Teixeira as part of the UFC Fight Night card from Nashville airing on FOX Sports 1.
From the first day he entered the sport, Saint Preux had the kind of freak athleticism that would take him far in the fight world, but his coach was the person to give him the confidence that he could not only be a player -- he could be a champion.
"This is one of the biggest reasons why I'm doing what I'm doing right now. Talking to my trainer Eric Turner like my second or third amateur fight, I'm like how far can I make it? He said you can be UFC champ," Saint Preux told FOX Sports on Thursday. "Ever since then that's all I needed. I'm ranked No. 6 right now and I'm slowly climbing up."
Saint Preux might be a slight underdog on paper to Teixeira, but there's no doubt that all eyes are on him in the main event on Saturday night because with a win he becomes a serious threat to anyone atop the light heavyweight division.
If anyone isn't already aware, Saint Preux plans to send a loud message to everybody at light heavyweight with his performance against a former title contender like Teixeira.
"I can see myself competing with those guys and beating those guys. They can see me being a big problem right now," Saint Preux. "When I fought 'Shogun' and then when I fought (Patrick) Cummins and a lot of people were asking about my wrestling and I told people he's a two-time All American, he better take me down. Now people are watching me against Glover and they're going to see how I'm actually going to perform against Glover and Glover's well rounded, durable and everything but with me, I think I'm younger, faster, stronger and I have a lot of momentum going my way."
"If I was them, I'd have eyeballs on me. I definitely feel that."
The scariest part about Saint Preux's evolution is his ability to adapt and get better with each fight while mixing in new weapons with every performance.
It's part of the reason why the former University of Tennessee football standout won't make a prediction for his fight because there's a lot of different ways this one could end.
Teixeira's the one that has to worry about that.
"If you look at me fighting now, I have six fights in the UFC that I won and they've all been finished in a different fashion. Every time someone looks at me, they look like 'what's going to happen next'. The fighter that I was when I fought Patrick three months ago, I'm completely different now," Saint Preux said.
"You've got fighters who have different tell-tale signs about them. Glover is still the same fighter he was five fights ago. My coaches do a good job of reinventing me every time."
Don't miss Saint Preux in the main event of UFC Fight Night: Teixeira vs. Saint Preux with our schedule and viewing guide.