Ovi, Caps come up empty in series opener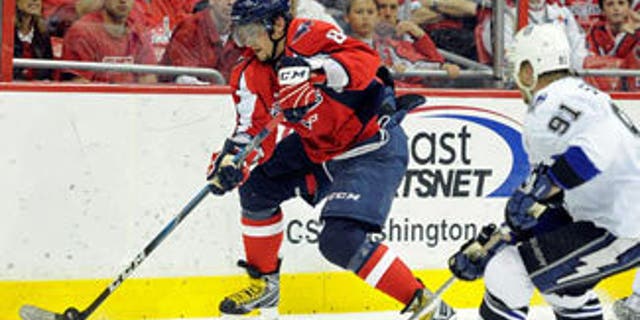 WASHINGTON -- Alex Ovechkin had what his coach described as his best game of the postseason in the Game 5 clincher against the New York Rangers in the opening round last Saturday. But Ovi was unable to follow it up with a similar effort against the Tampa Bay Lightning in Game 1 of the Eastern Conference Semifinals.
Ovechkin led all forwards with 22:38 of ice time and tied for the most hits with four, but seven of his nine shot attempts were blocked and he didn't collect a point for the second time in six postseason games this year and only the third time in his past 12.
Here's what Ovechkin had to say after his team's 4-2 loss to the Lightning at Verizon Center:
Q: Bruce [Boudreau] talked about this game being maybe reverting back to your old style of game. Did you see it that way as well?
A: I think we played very well the last 10 minutes in the first period and first 10 minutes in the second. When we get the lead, we just didn't play our game. We played too cute and we take lots of penalties. It cost us. It is over and we have to get ready for the next game.
Q: Is there anything the power play needs to do differently?
A: We didn't score goals, but I think we had chances. [Alexander Semin] hit the post in the first period. Again, the power play is the key. They score a goal, Stamkos scored a goal, and I think we take too many bad penalties in the second period and it cost us the game. Especially when you get the lead you can't do that. We understand it so it is going to be a different game next game.
Q: There is a moment after they score that empty-net goal where you are on the ice on one knee -- what is going through mind at that point?
A: I don't know. I thought the puck was in and then I saw at the last minute the puck hit the post. I can't say really. We lose the game, but I think the game was in our hands and we lose it. We're going to take some good parts and forget about the bad parts.
Q: Do you think the long layoff hurt the team's energy tonight?
A: I think the first couple minutes we were not in the game. After they score a goal and we score our first goal we just wake up and play our style of game. You can see when we get the puck deep and we finish our check we create some chances. Again, first period last 10 minutes we play our game and first ten minutes in the second we play good. After that we just let them play their game and we can't do that.