Ovechkin scores 35 seconds in to record 1,000th point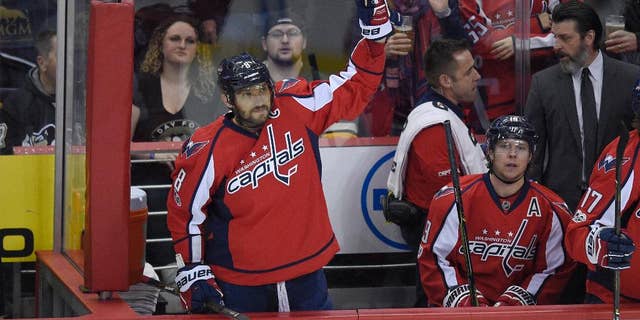 NEWYou can now listen to Fox News articles!
WASHINGTON – Alex Ovechkin wasted no time hitting another milestone — and he did it in style.
Ovechkin scored 35 seconds into the Washington Capitals' 5-2 victory over Sidney Crosby and the rival Pittsburgh Penguins on Wednesday night to become the 84th player in NHL history to record 1,000 career points.
Skating down the right wing, Ovechkin toe-dragged and fired a shot past Penguins goaltender Marc-Andre Fleury to set off a reaction many times louder than a normal goal.
"I kind of think about it before the game, everybody's here and it will be nice to get 1,000th point at home," said Ovechkin, who had his wife, parents and brother in attendance. "Pretty excited that it happened. It's a big moment for organization, for myself and the fans."
Those fans who filled Verizon Center for the 338th consecutive sellout chanted "Ovi! "Ovi!" as the superstar left wing waved to the crowd from the bench. Initially, Ovechkin was sitting down, so longtime linemate Nicklas Backstrom pushed him to his feet.
"He should be honored like that if you reach 1,000 in the amount of games he has," said Backstrom, who assisted on Ovechkin's milestone goal. "It's pretty impressive. All the credit to him. He's an unreal player and he's been fun to watch."
Ovechkin became the fourth Russian-born player to reach 1,000 and the 37th to do it all with one franchise.
Reaching the milestone in his 880th game, Ovechkin is the second-fastest active player to reach 1,000 after Jaromir Jagr, who did it in 763 games. Crosby, who has 983 points in 741 games, could pass them soon.
Ovechkin joined countrymen Sergei Fedorov, Alexander Mogilny and Alexei Kovalev in the 1,000-point club that he called small but "very legendary." Last season, the 31-year-old passed Fedorov for the most goals among Russians and sits at 546 for his career after scoring on the power play in the second period for point No. 1,001.
"Yeah, why not?" Ovechkin said of reaching 1,001 points.
After tying Maurice "Rocket" Richard on the goals list Monday in Montreal, Ovechkin said approaching 1,000 points meant he was "getting older." This is Ovechkin's 12th NHL season since the Capitals picked him first overall in the 2004 draft.
"I don't feel old," Ovechkin said Wednesday morning. "I just said when you get 1,000 points you've been in a league a long time. I'm still young."
Barry Trotz, who has coached Ovechkin for parts of three seasons, said the three-time Hart Trophy winner is a different player and person now than he was as a 19-year-old. But as another milestone happens, Trotz doesn't think Ovechkin is old by any stretch.
"When you're 19 years old, you've got a long career and when you're 30 years old you can sort of see the end — not necessarily in your play but you know that time is going to catch up," Trotz said. "He's enjoying it probably more as he's getting older in some ways."
Ovechkin's play is also being appreciated more as he gets older. He hasn't had the team success like Crosby, but has led the league in goals six times and is a no-doubt Hockey Hall of Famer whenever his first year of eligibility arrives.
"He's a world-class player," said retired 370-goal scorer Tim Kerr. "Obviously, he's been able to keep it going and he gets it done. He's a very talented guy. He's certainly one of the top players in the league, so you're not surprised by it because he does it every year."
Ovechkin's consistency is thanks in large part to his durability as he's missed more than four games in a season only once and never more than 10. He has played through a broken foot, knee and back problems and more and not missed much.
"Of course I have some injuries in my body, but sometimes you just have to play with it," Ovechkin said. "If it's not pain to miss the game, I'm pretty sure every player has lots of bruises."
___
Follow Hockey Writer Stephen Whyno on Twitter at http://www.twitter.com/SWhyno