Osuna goes from picking vegetables to closer with Toronto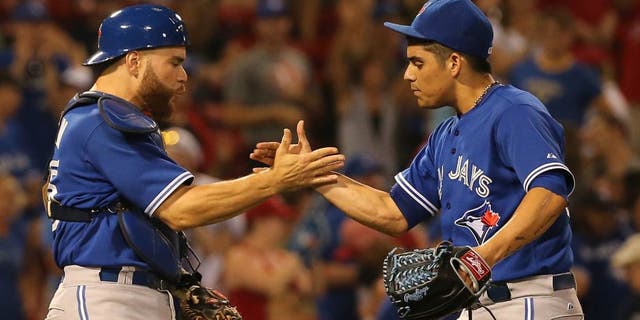 NEWYou can now listen to Fox News articles!
At 12, Roberto Osuna quit school to work with his father picking vegetables in the fields in Northern Mexico. Four years later, he was pitching against grown men in the Mexican League.
And this week, the unflappable reliever made his playoff debut with the Toronto Blue Jays as the youngest player in the majors. The 20-year old rookie closer wasn't even born when the Blue Jays made their last postseason appearance.
Osuna comes from a baseball family. His father, Roberto, pitched in Mexico during a career that spanned 22 years. And his uncle, Antonio Osuna, pitched in the majors for 11 years.
But after retiring, Roberto Osuna Sr. ran into financial troubles and had to work the fields.
''At home, I was the older brother, plus twin brothers and a sister. We were four, five with my mom,'' Osuna said in an interview with The Associated Press. ''My dad was the only working, but not earning enough money to support us.''
Osuna's father had a family with 10 brothers, and once he retired, the money he saved during his playing career ran out after four years.
''I made the decision to leave school, which frankly I didn't like anyway,'' said the Blue Jays pitcher. ''My father told me that I had the choice of dropping out of school and come work with him in the fields, to earn more money for us.''
The younger Osuna recalls the hard work with his father, waking up at 5 a.m.
''We picked tomatoes, potatoes, pickles and more,'' he said. ''We got back home around 5 p.m. for about seven months. It was tough.''
In the evenings, Osuna practiced with his father.
''I was a pitcher since age 12. I only wanted to be a pitcher,'' Osuna said.
Osuna played with Little League teams that went on tours in Japan and Italy. He made his professional debut in 2011 with Diablos Rojos, a team in the Mexican League. Scouts from major league teams soon noticed his talent, with the Blue Jays acquiring him with a $1.5 million bonus.
With the money, he bought a new house for his mother in Los Mochis, a town in the northern state of Sinaloa. He also paid for prostate surgery for his father and private school for his brothers.
His teammates are impressed, particularly LaTroy Hawkins, another reliever who at 42 is the oldest pitcher in the majors.
''Growing up where he grew up in Mexico, I think that adds to how tough he is and his makeup, his character and the person he is,'' Hawkins said. ''He was pitching in the Mexican League at 16 years old. I think that helps him. That puts him a little step ahead of other 20 year olds around the game.
''He's comfortable being uncomfortable, growing up where he grew up. You're always aware of your surroundings, and you always have a plan, and that's Osuna,'' he added.
Osuna's path to the majors included Tommy John surgery in 2013. This year, he was a non-roster invitee in spring training, with the idea of getting some experience. Armed with a blazing fastball, a slider and a changeup, he made the team despite never pitching above Class A, then claimed the closer job in June.
After a regular season in which his 68 games established a record for a relief pitcher younger than 21, Osuna pitched two perfect innings in a 6-4 loss against the Texas Rangers in his playoffs debut on Friday. Toronto is down 2-0 in the best of five ALDS.
''Despite being so young, he looks much more like a veteran player,'' said Blue Jays slugger Jose Bautista. ''He already has one of the most difficult qualities a young player reaches, which is feeling confident about his talent, that serenity when you're competing, and in particular in the high-leverage situations he faces, when the game is on the line.''
Osuna says pitching in the playoffs is normal. He only needed to recall his childhood.
''It was like when I went to Japan,'' he said. ''I was alone. I love challenges. That was something that didn't scare me, saved the sadness of being away from my family.''