OSU head coach Gary Andersen has unique knowledge of WSU QB Falk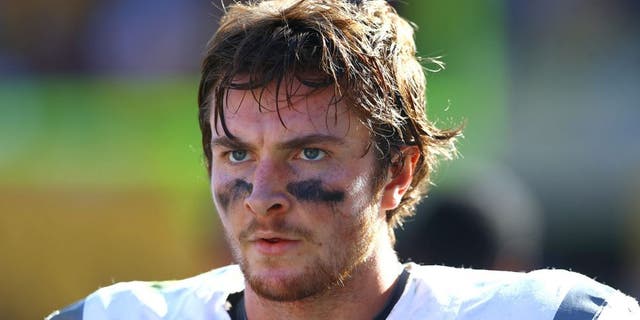 NEWYou can now listen to Fox News articles!
Nov 22, 2014; Tempe, AZ, USA; Washington State Cougars quarterback Luke Falk (4) reacts in the second half against the Arizona State Sun Devils at Sun Devil Stadium. The Sun Devils defeats the Cougars 52-31. Mandatory Credit: Mark J. Rebilas-USA TODAY Sports Mark J. Rebilas USA Today
Oregon State head coach Gary Andersen knows WSU QB Luke Falk all to well. In fact, Falk played on the same high school football team as Andersen's twin sons at Logan High School in Utah. The team won the 2011 Utah state championship with Falk under center.
"I'm glad to see him do it," Andersen said of Falk, according to The Oregonian. "I hope doesn't play as well as he did Saturday (against Oregon), though."
Falk moved to California for his junior year of high school, before returning to Utah for his senior season. Andersen has kept an eye on Falk the entire time and is very impressed with his play so far this season.
"He's a great kid. I love him," Andersen said. "He's fought to get where he is. He's a great story ... nobody gave him a chance and he's a self-made guy. Coach Leach gave him an opportunity and, boy, has he made the best of that opportunity.
"It's one of the best stories in college football, I would say, out there right now."
(h/t The Oregonian)