Oscar De La Hoya tries to make Leicester City reference, fails miserably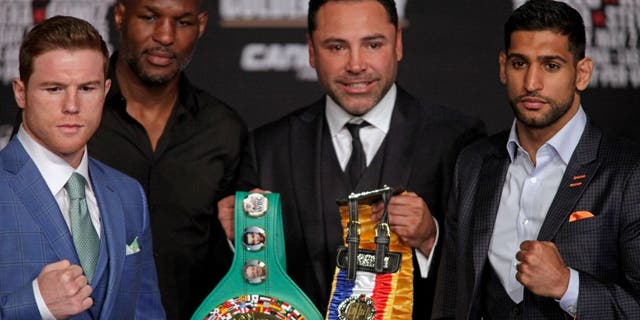 NEWYou can now listen to Fox News articles!
Boxing great Oscar De La Hoya had himself a truly cringe-worthy gaffe in the build-up to Saturday's middleweight title fight between Canelo Alvarez and Amir Khan in Las Vegas.
Khan is a huge underdog, so in an effort to hype up the English fighter's chances, De La Hoya attempted to make an obvious connection to Leicester City overcoming their own huge 5000:1 odds to complete the most improbable championship in sports history.
Sound strategy by "The Golden Boy." Unfortunately, he just got one tiny little detail wrong in the execution.
Khan's face pretty much says it all.
That would be the English Premier League that Leicester won, Oscar. Not the "UEFA Cup," which doesn't even exist anymore. It's been the Europa League for, like, six years now.
You would think he'd be up on his soccer seeing as he is one of the owners of the Houston Dynamo. But hey, you tried, Oscar. You tried.
MORE FROM FOX SOCCER: