Oscar De La Hoya accuses Trump of cheating at golf, tycoon says it's a lie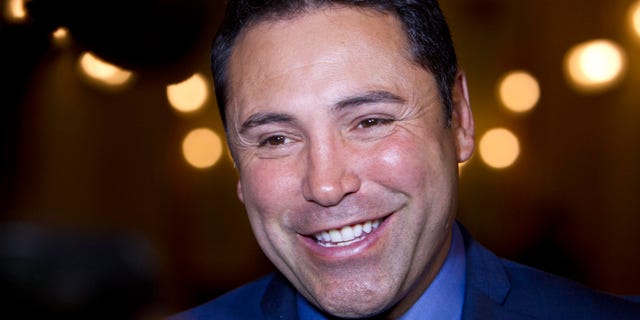 NEWYou can now listen to Fox News articles!
LAS VEGAS – Of all the things Donald Trump has been called on the campaign trail, this one might sting the most: golf cheat.
Oscar De La Hoya says that's what he saw on the links when Trump joined up with his group at Trump National Golf Club in Los Angeles two years ago. Trump, he said, cheated not once but twice in the space of two holes — a charge the real estate tycoon quickly denied.
"Yes, I caught him," De La Hoya said. "It was unbelievable. But I guess it was his course, so it was his rules."
De La Hoya said he and his group were teeing off on the first hole when Trump, an avid golfer who owns several courses, asked if he could join them.
"Of course, this is your golf course," De La Hoya said he told him.
The former boxing champion said Trump hit his first ball into the water, hit a second out of bounds, then a third into the water again. His fourth ball then went into the bushes.
"Donald, what he does is he tees off first so we go off to our balls and what do we see but Donald Trump right in the middle of the fairway," De La Hoya said. "He said, 'Hey look, I found my first ball.'"
On the next hole, a par-3, De La Hoya said Trump hit into some bushes and again went ahead of the other players in his cart. When the rest of the group got to the green, he said Trump's ball was 3 feet from the hole.
"And by the way I'm picking it up," De La Hoya quoted Trump as saying. "It's a gimme."
For his part, Trump wants to make it perfectly clear that not only does he deny cheating at golf, he has never played golf with De La Hoya.
Trump told the Associated Press on Thursday that he respects the game too much to cheat and is good enough to have won a number of club championships.
The presumptive Republican presidential nominee said his son Eric told him not to respond to De La Hoya's charges that he cheated on two different holes two years ago at Trump National golf course in Los Angeles. But he says he had to respond because golf is a game built on integrity.
Trump, who owns 18 golf courses, says De La Hoya is lying about him because he wants to sell tickets to a fight he is promoting.
His Golden Boy Promotions is hosting on Saturday night at the MGM Grand a bout between a Muslim from Great Britain, Amir Khan, and a Mexican Saúl "Canelo" Alvarez, and there are tickets to sell.
De La Hoya, a son of Mexican immigrants, said he has reserved two of them at ringside for Trump, a big boxing fan, but so far they have been unclaimed.
It's not the first time Trump's name has been used in connection with a fight. Last month, promoter Bob Arum pushed the "Anti-Trump" undercard of all Mexican fighters for the Manny Pacquiao-Timothy Bradley fight.
De La Hoya believes Trump's behavior on the golf course is reflective of his true self.
"It shows something about his character," he said. "Golf is a gentleman's sport. You don't lie about your score, you don't lie about moving your ball. It goes to show what we're dealing with."
Based on reporting by the Associated Press.