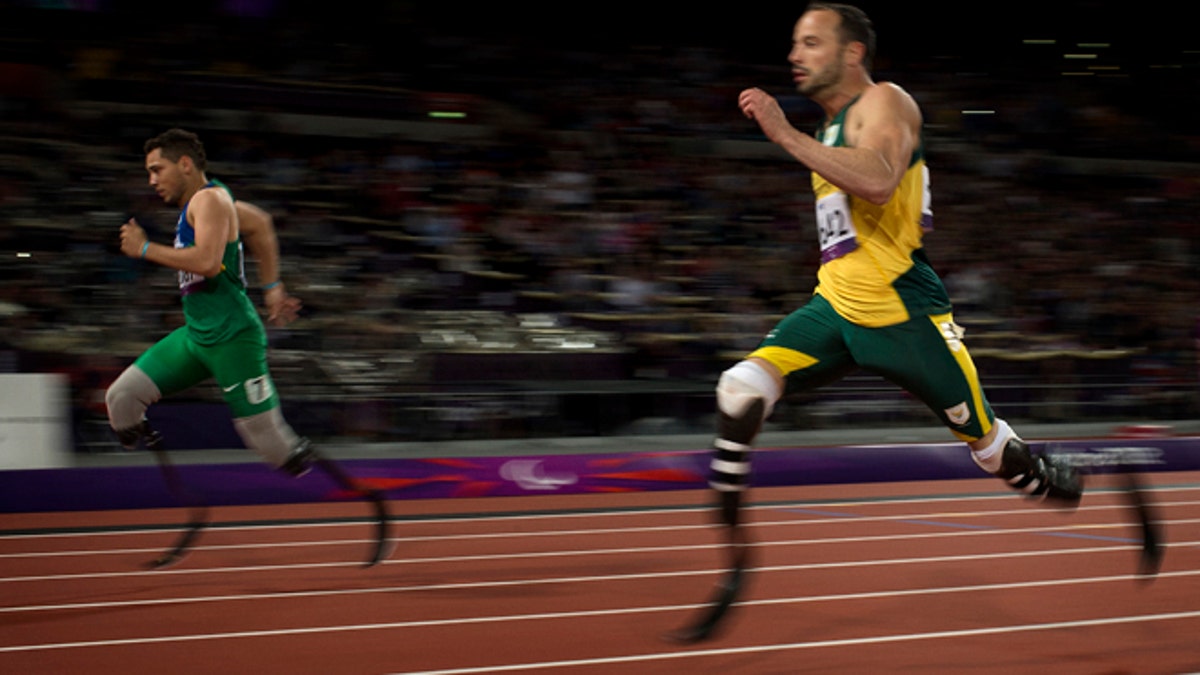 Oscar Pistorius apologized Monday for the timing of his complaints about a rival's blades following his defeat in the Paralympic 200-meter final, but insisted that officials need to change the rules to prevent some runners from getting an unfair advantage.
The so-called "Blade Runner" was surging to a third straight 200 gold when he was overtaken close to the finish line on Sunday night by Alan Oliveira, who is also a double amputee.
Pistorius then criticized Oliveira within minutes of the upset, claiming the Brazilian used longer carbon fiber prosthesis than should be allowed.
As Paralympic officials insisted Monday that Oliveira did not break the rules and that the blades had been approved, Pistorius said he should have waited before launching his outburst.
"I would never want to detract from another athletes' moment of triumph and I want to apologize for the timing of my comments," the South African said in a statement.
But the International Paralympic Committee has already agreed to meet with Pistorius to discuss his grievances over the formula used to calculate the acceptable length of blades.
"I do believe that there is an issue here and I welcome the opportunity to discuss with the IPC but I accept that raising these concerns immediately as I stepped off the track was wrong," Pistorius said. "That was Alan's moment and I would like to put on record the respect I have for him.
"I am a proud Paralympian and believe in the fairness of sport. I am happy to work with the IPC who obviously share these aims".
Pistorius himself spent years fighting to convince the sports authorities that his blades didn't give him an unfair advantage against able-bodied athletes, and that he should be allowed to compete in the Olympics.
He finally won his case in 2008 at the Court of Arbitration for Sport and made his Olympic debut a month ago, reaching the 400 semifinals and the 4x400 relay final.
The blades that Pistorius are using were approved by athletics' governing body for use in able-bodied meets, and he has opted to use the same ones for the Paralympics. Oliveira used visibly longer blades on Sunday to clock 21.45 seconds in front of an 80,000-strong crowd at the Olympic Stadium.
"These guys are a lot taller and you can't compete (with the) stride length," Pistorius said after Sunday's race. "You saw how far he came back. We aren't racing a fair race. I gave it my best. The IPC (International Paralympic Committee) have their regulations. The regulations (allow) that athletes can make themselves unbelievably high.
"We've tried to address the issue with them in the weeks up to this and it's just been falling on deaf ears."
While Pistorius tried to be more magnanimous later, he still claimed it was "ridiculous" that Oliveira could win after being eight meters adrift at the 100-meter mark.
"He's never run a 21 second-race and I don't think he's a 21-second athlete," Pistorius said. "I've never lost a 200-meter race in my career."
Pistorius had the support of compatriot Arnu Fourie, who finished fourth and questioned Oliveira's lengthened blades
"Ask anyone out there -- does it look out of proportion?" Fourie said Sunday. "I think 99 percent of people are going to tell you, `Yes it does."'
"If they are within the rules you can't fight the athlete, so you're going to have to fight the formula and fight the rule if we're going to do anything about it."
Pistorius will have to take on Oliveira in all of his events at these Paralympics. Next up is the 4x100 relay on Wednesday before Pistorius defends his titles in the 100 on Thursday and 400 on Saturday.