Orlando is laying the groundwork to host NFL games by 2017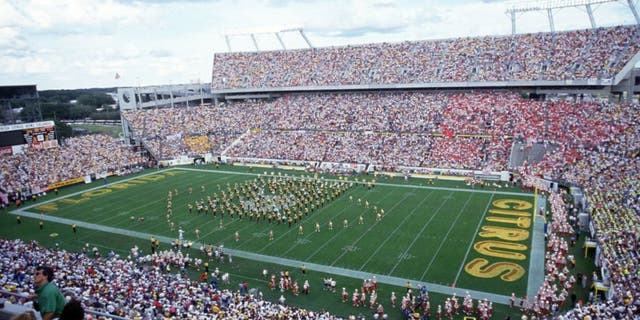 NFL games could be coming to Orlando, Florida. In fact, one Florida sports executive "guarantees" it.
Steve Hogan, the CEO of Florida Citrus Sports, told the Orlando Sentinel Tuesday that he's confident the city will host NFL games in the very near future.
"I promise you, I guarantee you, we will have NFL football in this stadium in 2017 -- one way or another," Hogan told the Sentinel. "I'm not just talking about preseason games. Regular-season games are also in play."
The topic was discussed after nearly 50,000 fans flocked to the Citrus Bowl last weekend to watch Florida State's spring game. With so many people interested in watching a college intrasquad scrimmage, you would think the enthusiasm over an NFL game would be through the roof.
The Citrus Bowl has hosted numerous marquee sporting events, including the Olympics, FIFA World Cup and WrestleMania, in addition to major college football games, MLS matches and state high school tournaments. However, it doesn't have an NFL team to call its own.

The historic site was a regular venue for NFL preseason games back in the 1990s, hosting teams like the New York Jets, Dallas Cowboys, Miami Dolphins, Houston Oilers and Tampa Bay Buccaneers, among others. But as the stadium grew older and its amenities became outdated, most teams had built new state-of-the-art facilities and were no longer interested in traveling to Orlando to play in the vintage venue.
But now, after the stadium recently underwent a dramatic renovation, there might be more appeal for NFL teams to play there. The Citrus Bowl got a $210 million face lift less than two years ago, including new video screens, a 10,000 square-foot party deck, an additional 6,000 club seats and an increased capacity of more than 65,000.
So if Florida State can attract more than 50,000 fans for a glorified practice, the NFL could almost certainly do better -- even for a meaningless preseason game.