Orioles offseason preview: Re-signing Chris Davis a priority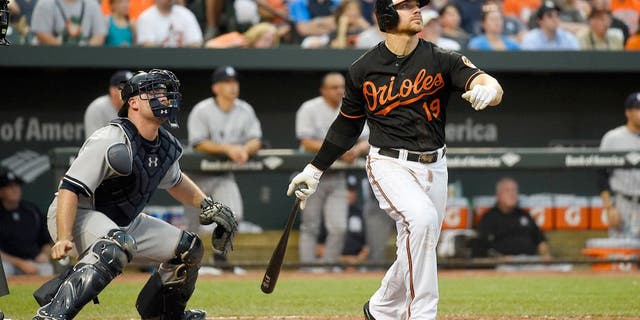 NEWYou can now listen to Fox News articles!
(We will preview one team's offseason each day leading up to the start of free agency. Now up: the Baltimore Orioles.)
The Orioles entered the 2015 season hoping to repeat their 2014 season -- when they won the AL East outright and were one of the best teams in baseball with a 96-66 record.
Things, however, didn't go as planned. The starting pitching wasn't as consistent as it was in 2014, and the lineup was unable to fill the void of departed free agents Nelson Cruz and Nick Markakis. Baltimore faces a huge offseason with Chris Davis, Wei-Yin Chen, Darren O'Day, Gerardo Parra and Matt Wieters all heading to free agency. But the Orioles can return to the postseason if they address these three things:
1. Eliminate any friction between GM Dan Duquette and manager Buck Showalter. Getting these two on the same page should be priority No. 1. Ken Rosenthal reported in September that there is some tension between Showalter and Duquette, with the manager wanting more say in personnel decisions. It will be a "disaster" if these issues aren't resolved, according to an official in Rosenthal's report. Of course, both Duquette and Showalter say that everything is fine. This offseason will prove whether they have settled their issues, or if they are still on different pages.
2. Find a frontline starter. The Orioles got away with not having an ace in 2014, but they were exposed for it this season. Acquiring a frontline starter will give the Orioles the ace they badly need, slotting Chris Tillman, Ubaldo Jimenez, Kevin Gausman and Miguel Gonzalez behind him. Chen wasn't happy with being demoted to Triple-A during the season, despite performing at a high level -- his 3.34 ERA was the lowest for the Orioles among qualified starters. He will likely be pitching for a different club in 2016.
Assuming Duquette stays with the team moving forward, he'll have plenty of options with which to fill the rotation this offseason. With big names such as David Price, Johnny Cueto and Jordan Zimmermann hitting the free-agent market, the Orioles can target a top-tier ace, or even "settle" for a second-tier starter in Jeff Samardzija or Scott Kazmir. Baltimore isn't known as being a big free-agent spender, but if it decides to splurge, this is where it should do it.
3. Re-sign Chris Davis. Duquette made the mistake of letting Cruz and Markakis walk after the 2014 season, and the offense struggled to replace them. Davis, who has hit at least 40 home runs in two of the past three seasons, provides power to a game that is sorely lacking it. With Wieters, Chen, O'Day and Parra becoming free agents, the O's have just over $41 million committed to the 2016 roster before arbitration, with no money committed after 2018. Back-ended deals have become popular throughout the game (see: Mike Trout, Giancarlo Stanton, Max Scherzer), and signing Davis to a similar deal would keep cost down while locking up one of the game's premier power hitters.