O'Reilly developing offensive game for Avalanche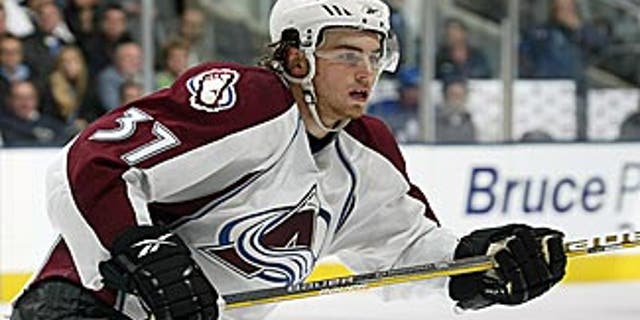 CENTENNIAL, Colo. -- Drafted as a defensive specialist, Ryan O'Reilly is opening eyes with his sudden offensive prowess.
One of two 20-year-old Colorado Avalanche centers -- Matt Duchene is the other -- O'Reilly has been on a tear with 7 goals in the past 14 games. He has 12 goals overall in 70 games, four more than he scored in 81 games as a teen-aged rookie a year ago.
"A lot of it is just getting into the right areas of the ice and going to the net," he told NHL.com after practice Monday. "If you work hard there, you seem to get bounces, and that's what's been working for me lately. The nice thing about when you have the puck on offense is you can be more creative and show the different skills you have."
A third-liner for most of his brief NHL career, O'Reilly has been given more responsibility -- and freedom -- to produce offensively because so many Avalanche forwards are sidelined with injuries.
After No. 1 center Paul Stastny was diagnosed with a season-ending stress fracture in his right leg, Avalanche coach Joe Sacco used O'Reilly between David Jones and Milan Hejduk for much of Sunday's game against Calgary. The trio combined for seven shots in a 2-1 loss to the Flames and goalie Miikka Kiprusoff, who had 34 saves.
"For sure it was different playing with those guys," said O'Reilly, who logged 19:57 in ice time, four minutes above his season average. "I thought we played pretty well. We had quite a few chances and were able to make some things happen. Unfortunately, Kiprusoff stood on his head."
O'Reilly also has gotten the chance on the power play and has contributed two goals there.
"He's a guy who's gotten more opportunity offensively, and the result has been the outbreak that he's had," Sacco said. "But you still have to be able to do it. A lot of guys are given the opportunity to be put in certain situations to put up some numbers offensively. The good thing with Ryan is he's responded in the right fashion; he's produced.
"It bodes well not only for him, but it bodes well for the organization moving forward that he's more than just how he made our team last year basically as a defensive forward and penalty killer, a responsible player. Now he can add this to his repertoire as being a guy that can produce offensively. He's made some really nice plays and certainly has stretched his game and in the right way."
O'Reilly was a second-round pick (No. 33) in the 2009 Entry Draft and became the youngest Avalanche player (18 years, 236 days) to make the opening-night roster. Along with 8 goals, he chipped in with 18 assists, led the team with 69 takeaways, was first among Avalanche forwards with 53 blocked shots and was second in faceoff success at 47.8 percent.
O'Reilly wasn't a big scorer in junior, where he had 35 goals and 83 assists in 129 games in two seasons with the Erie Otters in the Ontario Hockey League.
"I just try to do what I can to help win the game, whether it's scoring a goal or helping to shut down a line or win a draw and get the puck out," he said. "Scoring goals and setting up a goal is a lot of fun, but I don't mind playing either offense or defense. But I'm sure people enjoy seeing a guy score a goal rather than watching a guy backchecking. Just ask any fan, right?"
Even so, O'Reilly understands he'll be reined in if he takes too many offensive chances and neglects his defensive responsibilities.
"If I take that risk I know I still have to get back when there is a mistake to recover from it," he said.
Added Sacco: "He's still responsible defensively and he's still being used on one of our penalty-killing units. Any time you can evolve your game and become more of a 200-foot player, that's going to make you a better all-around player. He does a lot of good things with the puck. He's making some plays now that earlier in the season he probably wouldn't try. He hasn't given up his responsibilities away from the puck and he's improving his play with the puck."