Oregon to hire key Alabama assistant as its new co-offensive coordinator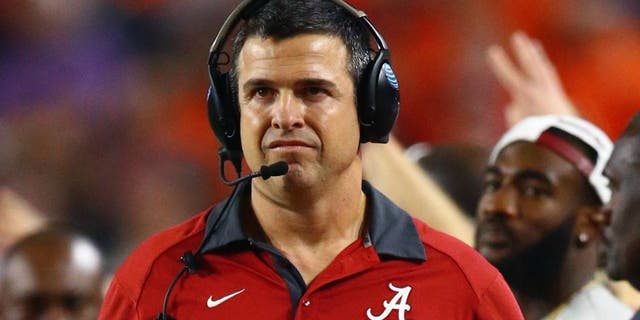 NEWYou can now listen to Fox News articles!
After coaching in Monday's national title game, Alabama assistant head coach Mario Cristobal is expected to become the co-offensive coordinator and run game coordinator at Oregon, a source told FOX Sports.
Cristobal will join former South Florida offensive coordinator David Reaves, who will also head to Oregon. Reaves will reunite with his old boss Willie Taggart as the Ducks' passing game coordinator.
Cristobal has been long regarded as one of the nation's top recruiters. In 2015, Cristobal's O-line at Bama proved to be the best in the nation, winning the inaugural Joe Moore Award, which is given to the toughest, most physical line in the nation, and helped paved the way for a national title run. Senior captain Ryan Kelly, a first team All-American, was also honored with the Rimington Trophy as the nation's top center. That line, along with Kelly, consisted of left tackle Cam Robinson, left guard Ross Pierschbacher, right guard Alphonse Taylor and right tackle Dominick Jackson, and averaged 199.9 rushing yards per game and pass-protected for another 227.1.
Prior to his time under Nick Saban, Cristobal was the head coach at Florida International, where he led what had been a program that was in disarray before he took over to its first Sun Belt Conference championship and a bowl victory over MAC champion Toledo. For his efforts, Cristobal was named the Sun Belt Conference Coach of the Year.
Reaves has been co-offensive coordinator for the Bulls and helped USF to win 11 games this season. Reaves was the recruiting coordinator under Steve Spurrier at South Carolina and also has coached at Tennessee and New Mexico.