Oregon State head coach 'sworn to secrecy' on Beavers starting quarterback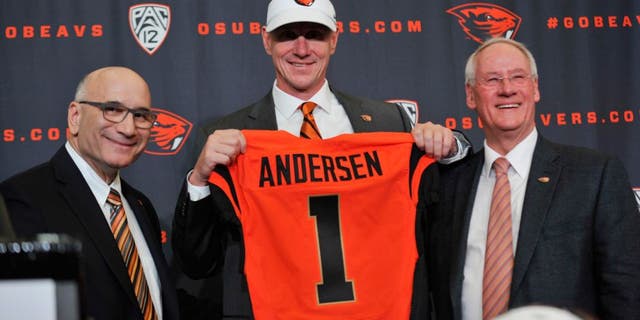 First-year Oregon State head coach Gary Andersen knows who his starting quarterback will be on Sept. 4. However, the coach isn't ready to reveal any details just yet.
"I know, but I'm sworn to secrecy," said Andersen, according to The Oregonian's Gina Mizell.
Offensive coordinator Dave Baldwin and Andersen have already made it clear that they will play two quarterbacks in the season opener against Weber State: true freshman Seth Collins and redshirt freshman Marcus McMaryion.
Both players were listed as co-starters on Oregon State's official depth chart.
Andersen was quick to caution folks about making conclusions based on which QB takes the first snap.
"It'll be what call we think fits best against what we believe they're gonna do on the first snap of the game, from a defensive standpoint to our offensive standpoint," Andersen said. "It won't be that this guy is taking the first snap because he's got the upper hand. It will be just whatever play in the opener is set for that young man."
(h/t The Oregonian)